everroll® rubber flooring at Burswood Jetty
Each year, the new Burswood Jetty will usher hundreds of thousands of ferry / private boat passengers to and from Perth's Optus Stadium precinct.  The 96m long Jetty provides direct access to the stadium, the Camfield Pub and Chevron Parkland. This $5 million jetty needed a rather special surface capable of handling the demands of heavy foot traffic, harsh weather conditions and frequent water spray from the Swan River.  Read on to find out why everroll® rubber flooring was chosen for the job.

Project Scope
Supply 460sqm of flooring suitable for marine applications, heavy foot traffic and harsh exterior conditions.  

Product details
FLOORING PRODUCT:  everroll® Core    
COLOUR: Berlin

Installation
Project managed by Oliver Whyte from Choices Flooring Myaree.
Installation team led by Shane Woulfe from Choices Flooring Myaree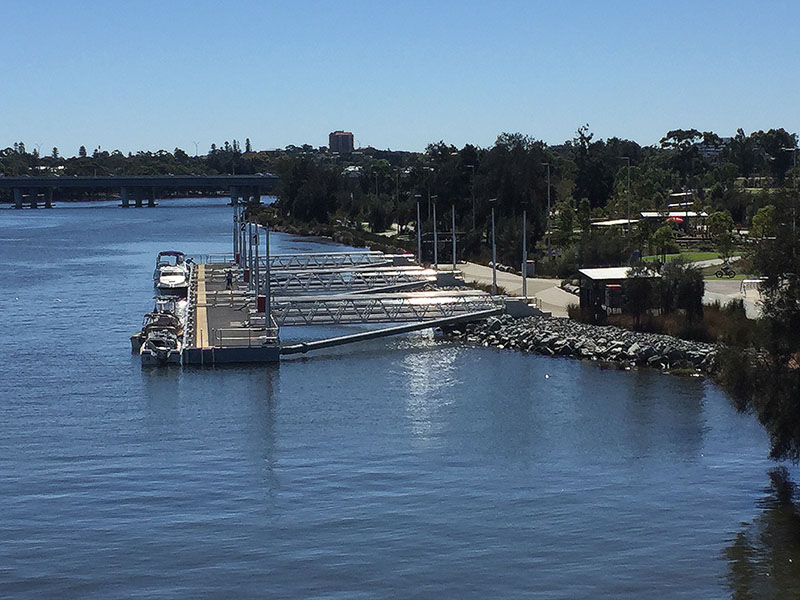 Why everroll® for Burswood Jetty?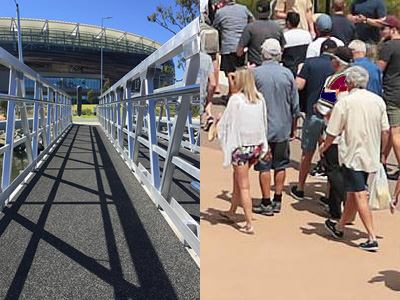 EVERROLL® WITHSTANDS HEAVY FOOT TRAFFIC WHILE REMAINING QUIET UNDERFOOT
The Optus Stadium has a seating capacity of 60,000, so it's easy to imagine the level of use that Burswood Jetty gets when major sporting events are running. It's estimated that 1.5 thousand passengers use Burswood Jetty as an alternative way of reaching the stadium on game days. Everroll® absorbs the sound of footfall while resisting the wear and tear normally associated with frequent pedestrian traffic, making it ideal for this application.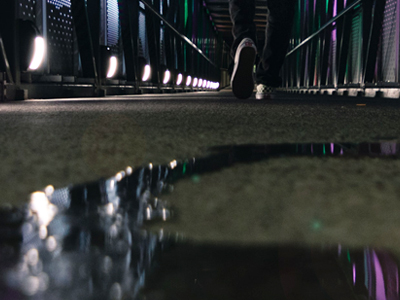 EVERROLL® IS SLIP RESISTANT, EVEN IN CHALLENGING CONDITIONS.
The surface of a marine jetty often has extra moisture & residue which can heighten the chances of slipping. which NOBODY wants on the way to the big match. Everroll® has excellent slip-resistance properties to help reduce the chance of such unfortunate incidents. Slip-resistance is particularly important where there is undulating movement associated with a marine jetty such as this.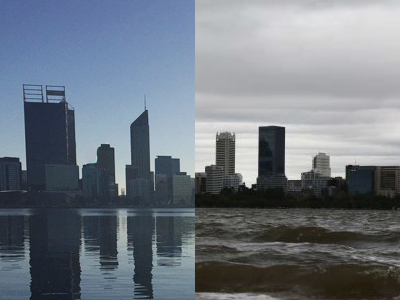 EVERROLL® CAN HANDLE FREQUENT WATER SPRAY
Unfortunately, the Swan River doesn't always look like the image on the left, meaning Burswood Jetty requires a surface that's able to cope with frequent water spray resulting from rough conditions and passing vessels. Everroll® has no problem handling rough marine conditions, regardless of whether it's situated in a salt water or a fresh water environment.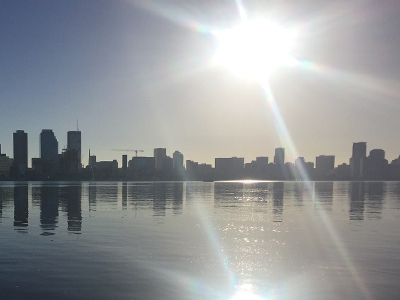 EVERROLL® OFFERS EXCELLENT UV RESISTANCE & IS NON LIGHT REFLECTIVE
Australia's incredibly harsh sun means that the surface of Burswood Jetty is fully exposed to extreme UV levels for much of the year. Everroll® flooring offers high UV resistance and has the added benefit of being non-light reflective.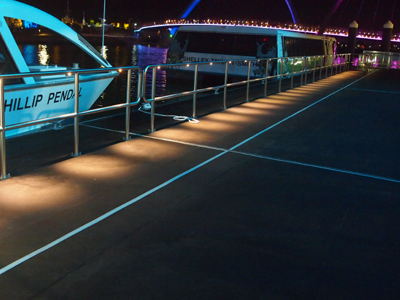 EVERROLL® HAS A LONG SERVICE LIFE
Even in exterior settings, everroll® will fulfil its purpose for a long time. If you want to see how everroll® is performing on a similar project, head to Elizabeth Quay's ferry terminal, where everroll® has been in situ since its opening in 2016. You will also see how everroll® endures the daily bombardment of the pontoon's resident seagull colony.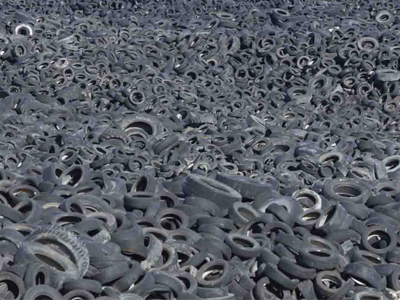 A GREAT USE OF RECYCLED MATERIALS
Selecting environmentally sustainable products is becoming increasingly important to our clients. The production of everroll® flooring requires vast quantities of scrap rubber tyres, with none of the production waste reaching landfill, as all off-cuts and remnants are reproduced.
square meters used in whole project
full days - onsite installation time
PROJECT IMAGE GALLERY 
Burswood Jetty

Owned by Ritchie and Wendy Whyte, Choices Flooring Myaree opened in 2013 to offer a wealth of industry experience, knowledge and quality products to the local area. The Myaree team offer customer service and product installation relating to a range of residential and commercial floor coverings including carpet, timber, vinyl, rubber, laminate and bamboo flooring.  Their project involvement spans across healthcare, education, fitness, leisure, hospitality, aged care and many other sectors.
The Burswood Jetty project was managed by Oliver Whyte, Ritchie's brother;  the installation team was led by Shane Woulfe, who installs all rubber flooring jobs for Choices Flooring Myaree. ABS West has had the pleasure of working with Choices Flooring Myaree on other recent projects including Melville Recreation Centre and Perth Airport. We hope the future holds many more opportunities to work with this skilled and knowledgeable team of flooring experts!
FOR MORE ABOUT CHOICES FLOORING MYAREE VISIT: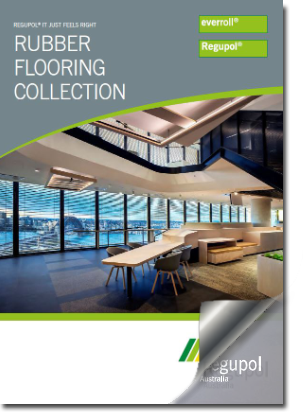 Everroll® flooring is incredibly versatile! It can be used for offices, gyms, schools, homes, boats, pontoons, leisure centres and so many other applications. Take a browse through the product brochure to discover more about its capabilities. 
SIMILAR PROJECTS YOU MIGHT BE INTERESTED IN!
Discover more about everroll®
flooring 
Want to know more about everroll® flooring?  Link to our flooring section.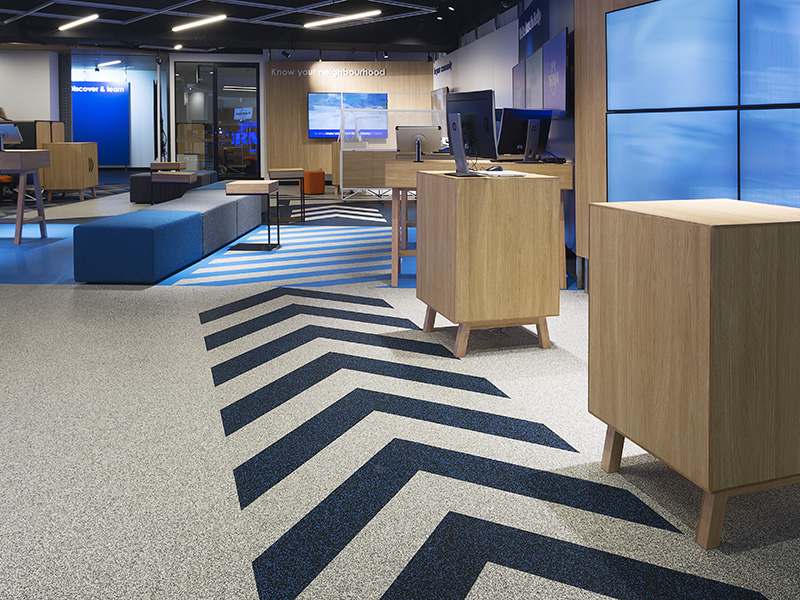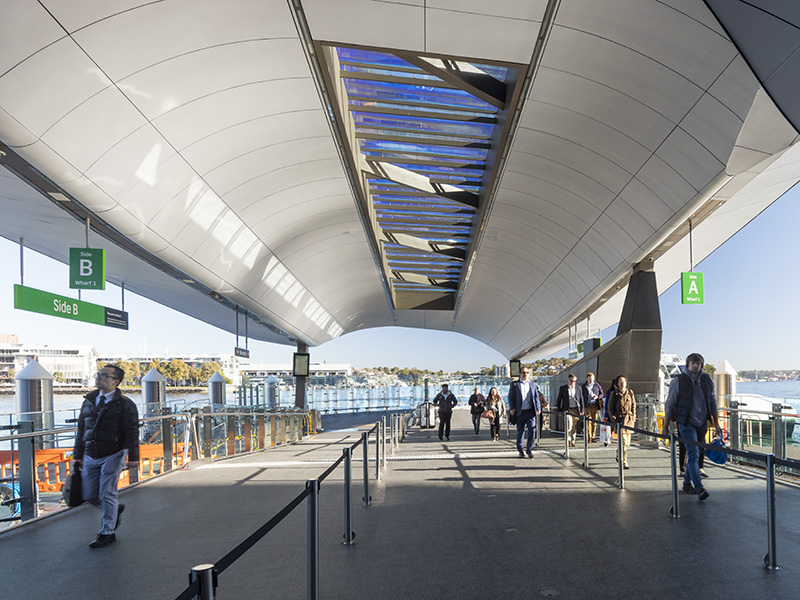 Call For an everroll® Quote:
08 9314 4000