Door protection with custom imagery at Koh-I-Noor nursing home
Acrovyn by Design has been applied with stunning results at local Perth nursing home, Koh-I-Noor. The imagery adds perspective to the interior and creates an uplifting feel.  It also acts as a strategic cue to influence the way residents perceive the doorways, to discourage the use of some doorways and encourage the use of others.  In addition to the visual results, the doors also benefit from high level impact protection against bumps and scrapes which are commonplace in health and aged care interiors. 

Project Scope
Apply custom door protection to 2 x double security doors in local nursing home.

Product details
Acrovyn by Design embedded with high resolution images captured by the specifying architect, representing local nature spots in Western Australia.

Site Management
Project managed by Stuart & Troy on behalf of ABS West.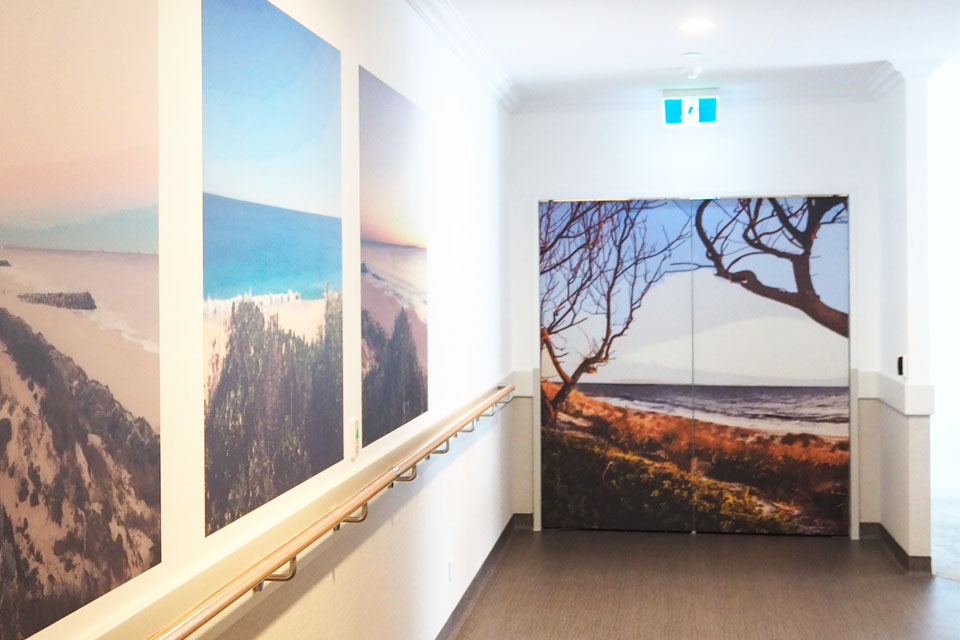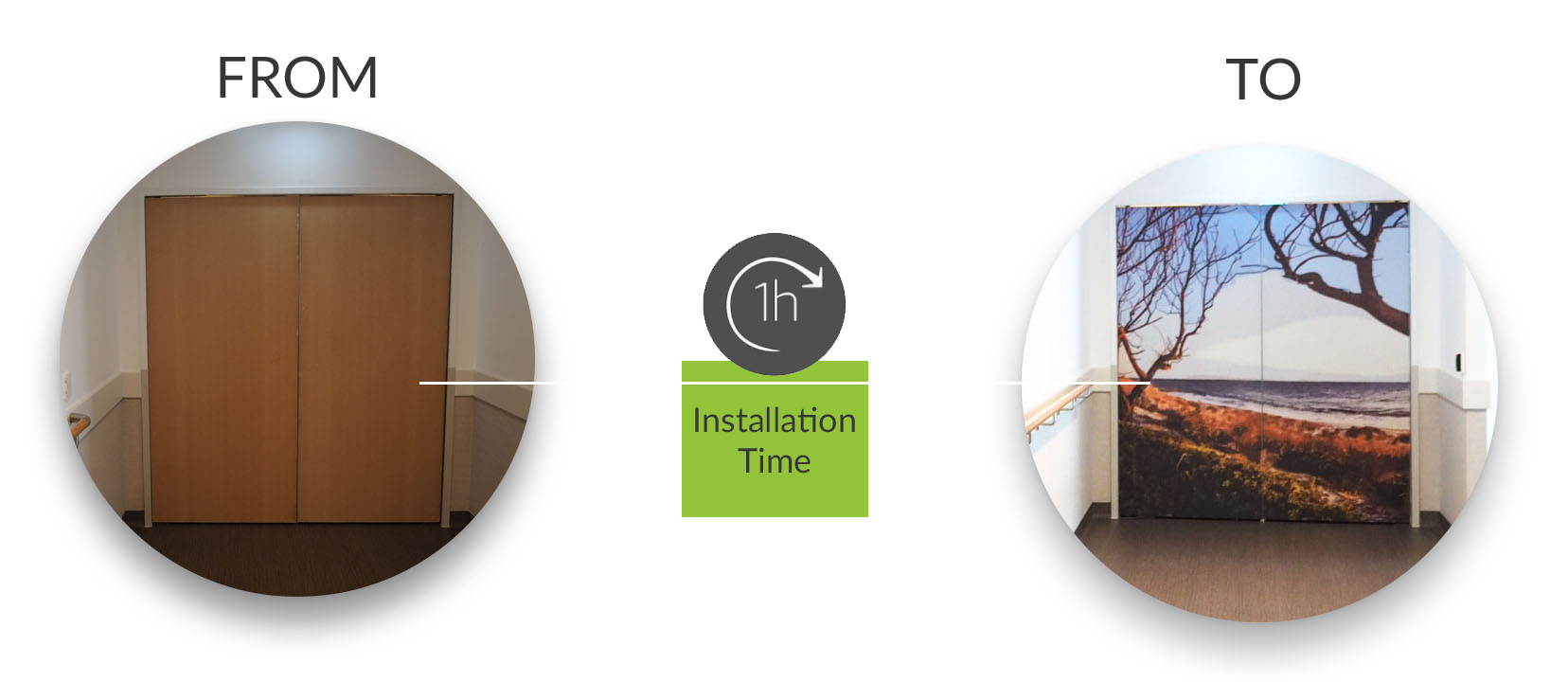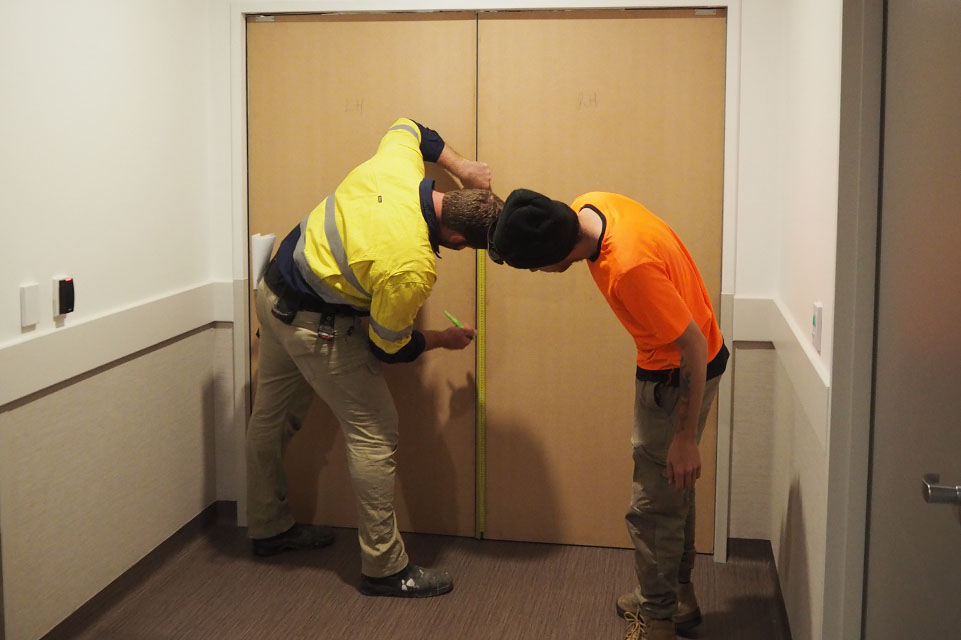 MEASURE & MARK-UP OF EXISTING DOORS
Correct placement is critical to ensure precise alignment when the doors meet to create a complete image.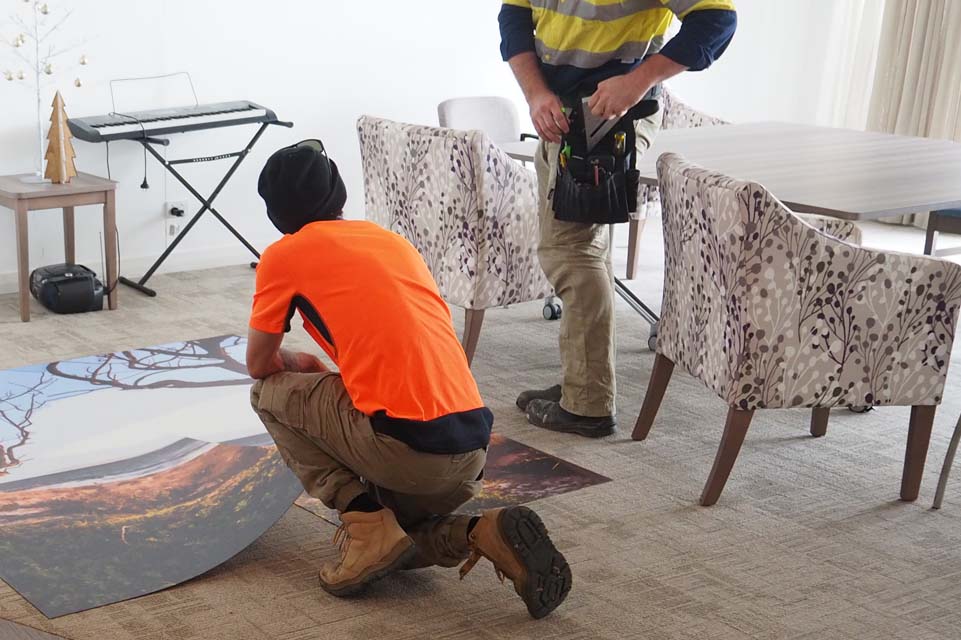 LAYOUT OF ACROVYN BY DESIGN SHEETS
Sheets are laid out to ensure they correspond with existing door alignment.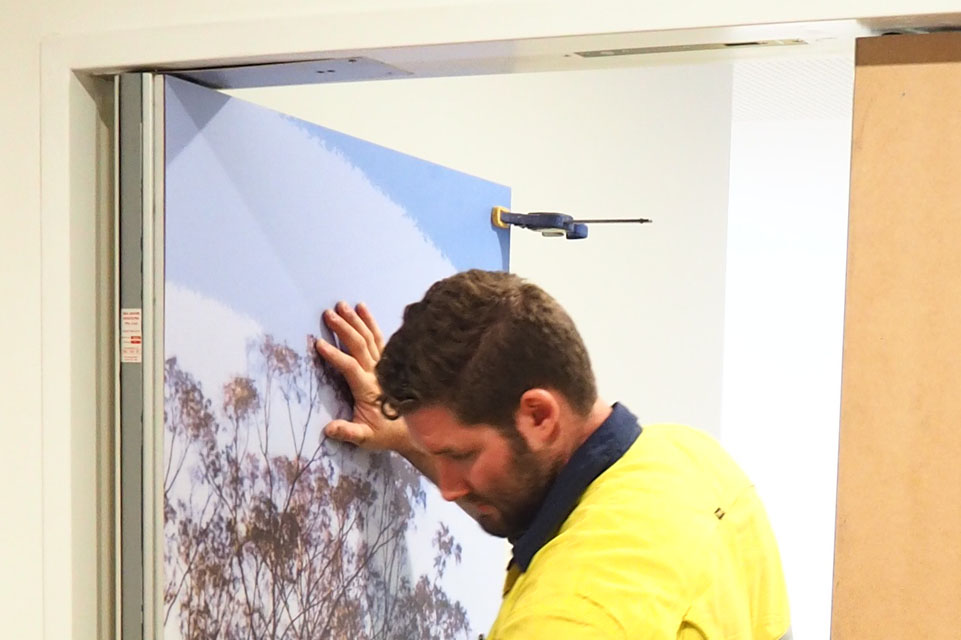 A QUICK DRY RUN
Sheets are clamped to the door to test for placement accuracy.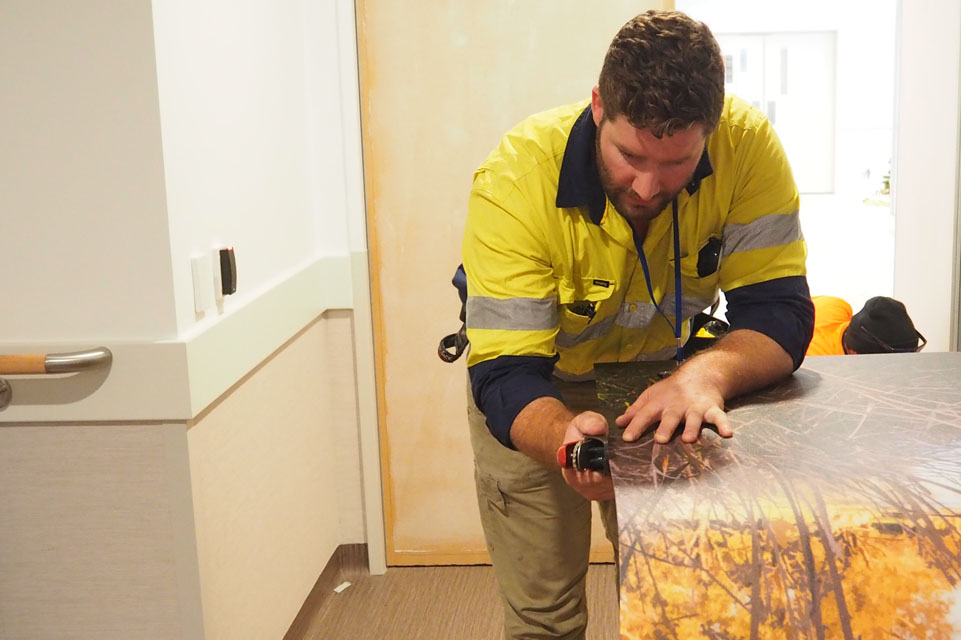 MINOR ADJUSTMENTS
The existing doors differ slightly from the prescribed size, and the two doors do not sit in perfect alignment, so Stuart uses his cutting & planing skills to ensure the Acrovyn panels conform exactly to the shape, size and alignment of the existing doors.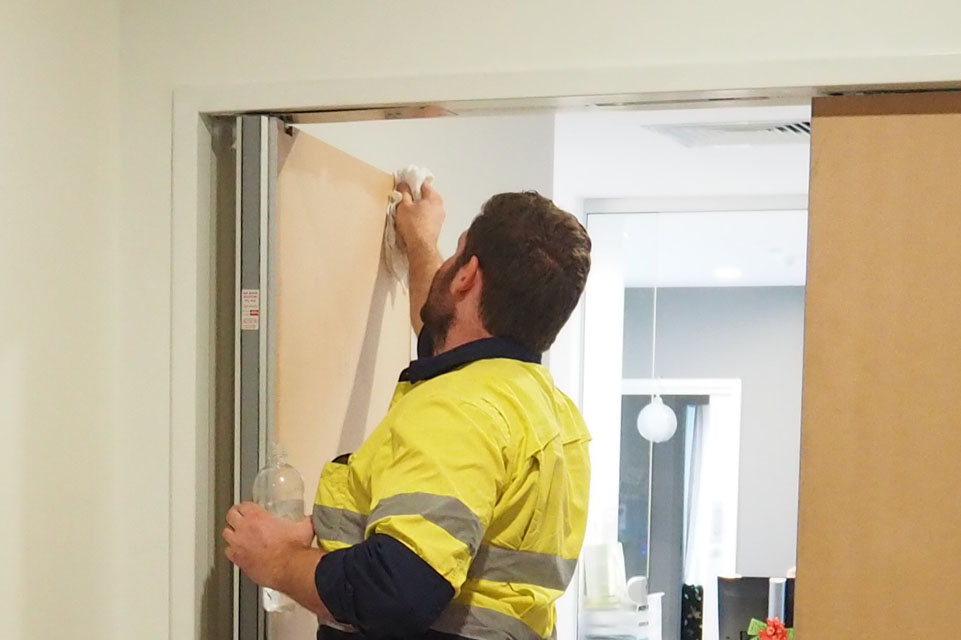 QUICK CLEAN OF THE DOOR SURFACE
To ensure reliable adhesion, any residue on the door is removed before the glue is applied.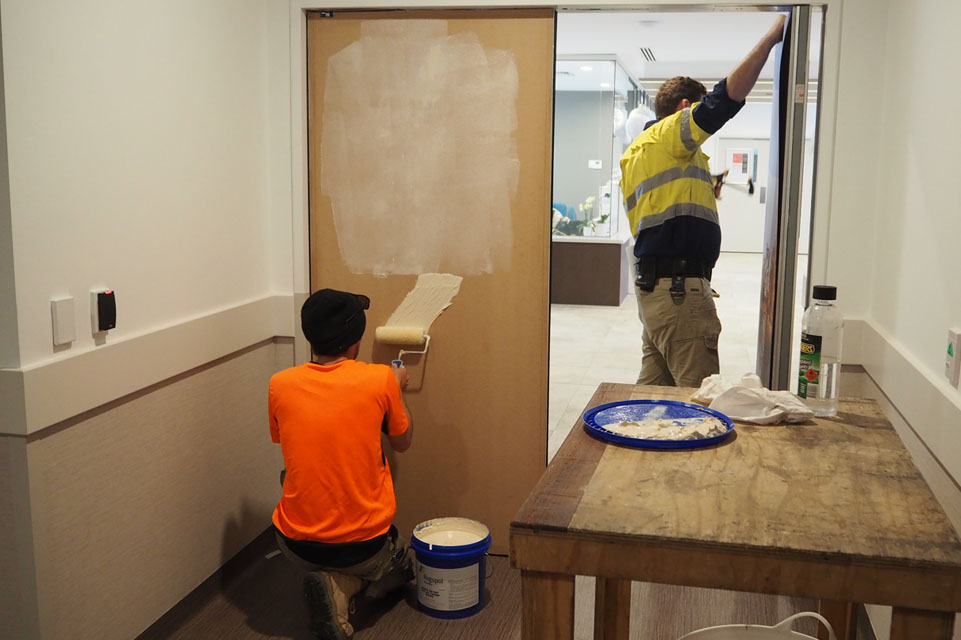 ADHESIVE APPLIED TO DOOR
A specially formulated adhesive is applied to the door which ensures the panels never budge, strip or peel, even when the doors endure harsh impact.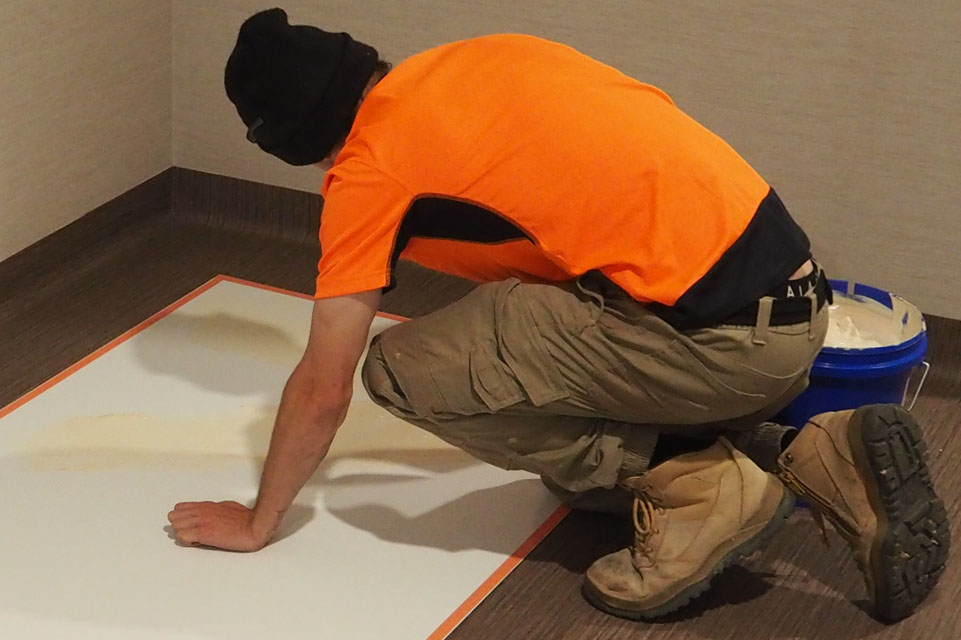 ADHESIVE APPLIED TO ACROVYN PANELS
The same, specially formulated adhesive is applied to the back of each Acrovyn panel.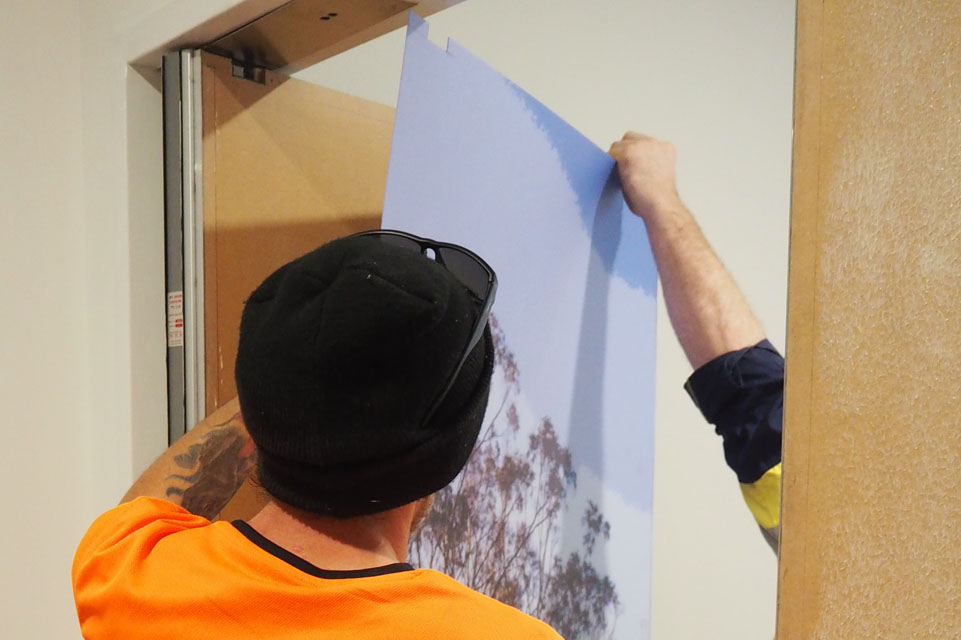 FIRST PANEL BEING GLUED INTO PLACE
After partial drying of the adhesive coatings, the first panel is bonded to the door surface.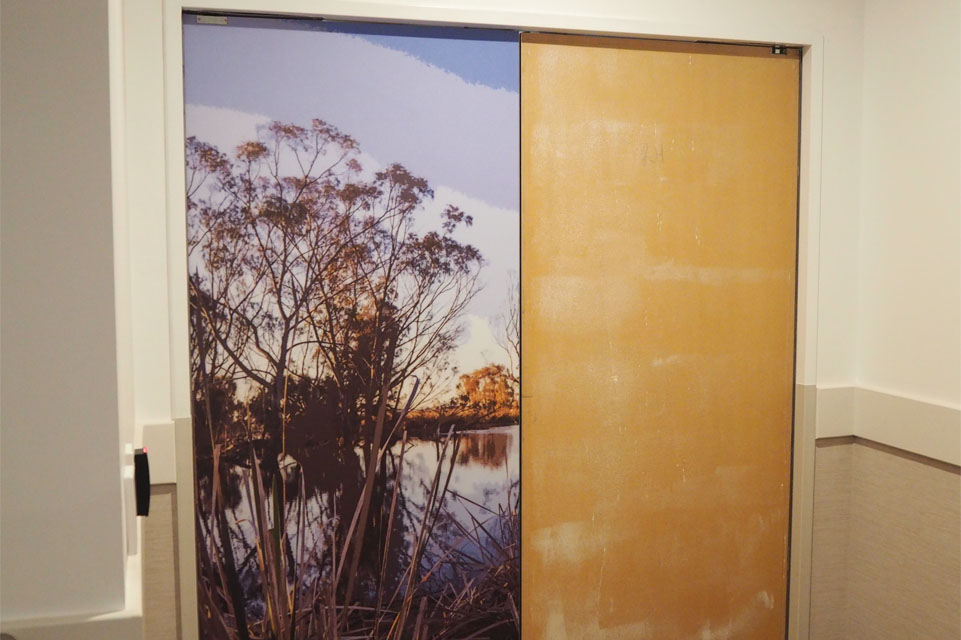 INSTANT TRANSFORMATION
Seeing the two doors side by side demonstrates the stunning transformation that happens as soon as the panels are applied.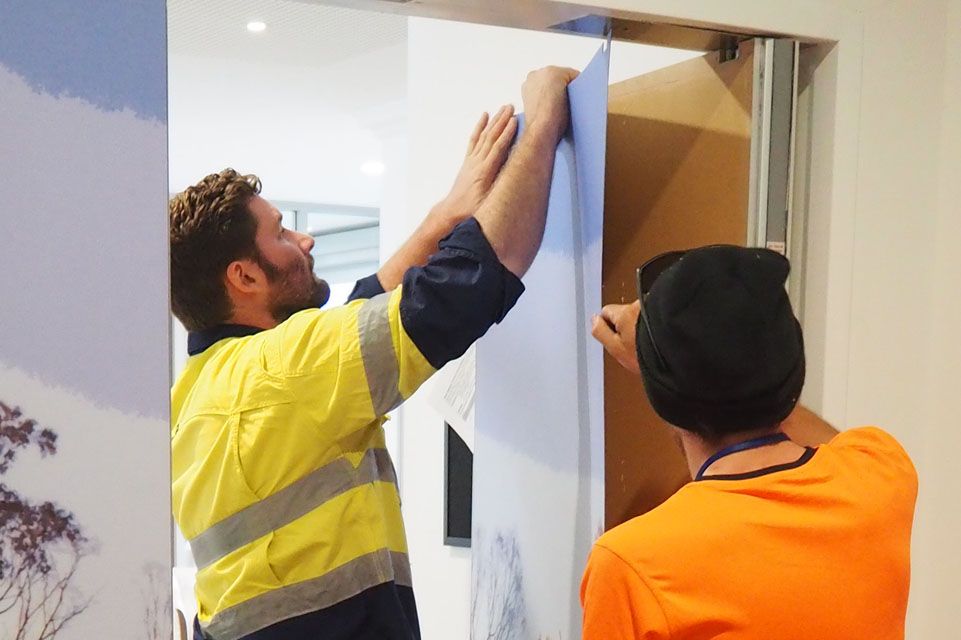 SECOND PANEL BEING GLUED INTO PLACE
Teamwork ensures smooth and accurate placement of the panels.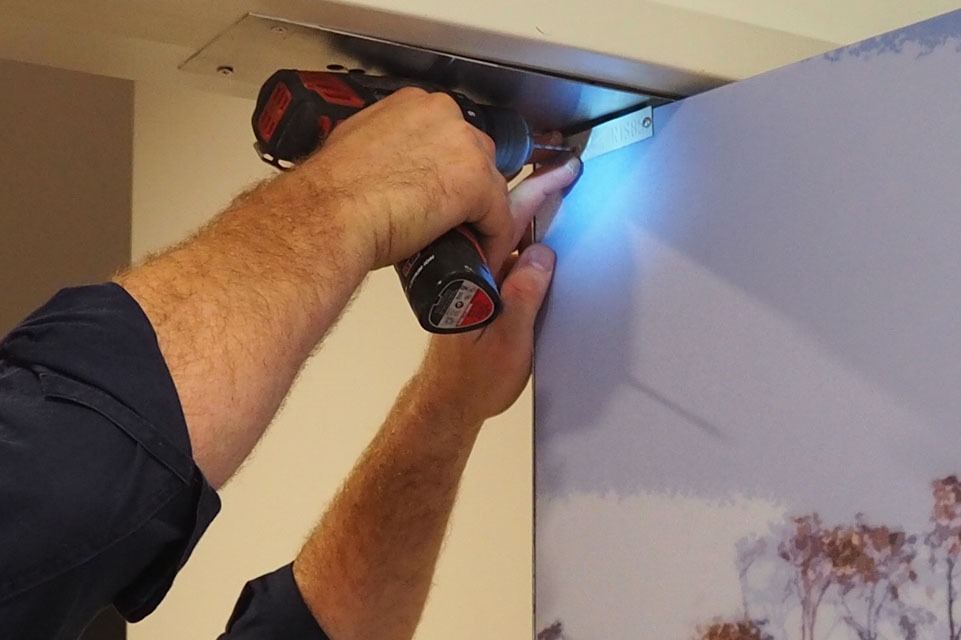 DOOR FIXTURES BACK ON
The original fixtures are placed back onto the door.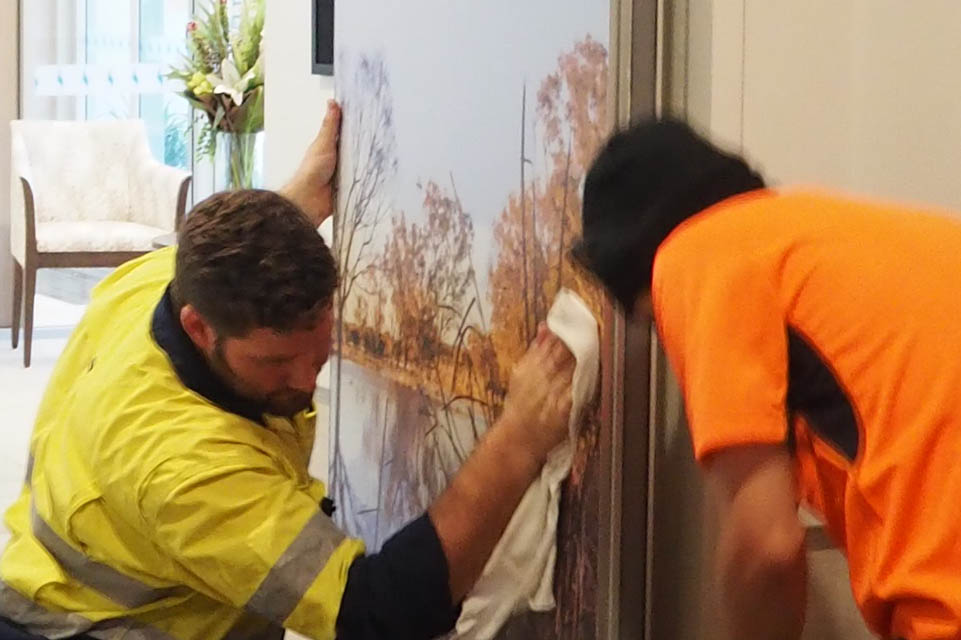 A LAST SMOOTH OVER
A final dose of love and care results in a perfect finish.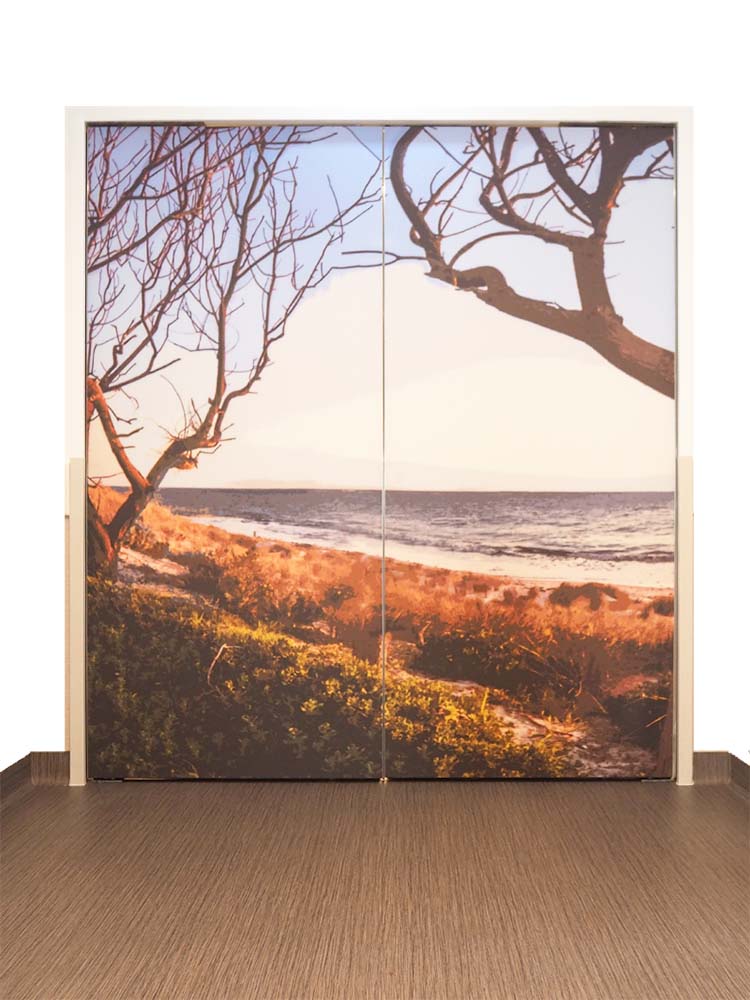 Hour Installation Time (1 hour for each set of doors) *
INDIVIDUAL ACROVYN PANELS
IRREGULAR DOOR ALIGNMENT
The existing doors were not sitting in perfect alignment but careful marking, measuring and trimming resulted in correct placement of the two panels to create a seamless, perfectly aligned result.
INSTALLING WITHIN A FULLY OPERATIONAL NURSING HOME
In nursing and aged care homes, security doors must remain closed at all times unless being used by authorized personnel. Application of our panels required the doors to sit open, which called for extra vigilance to ensure the safety of residents during the installation process.
SIMILAR PROJECTS YOU MIGHT BE INTERESTED IN!
Discover more about Acrovyn by Design
Browse our Acrovyn by Design product information to find out more about the composition of the Acrovyn sheeting and the image embedding process. Explore our image and video galleries to view other successful projects.
* Please note that the indicative installation time stated on this page relates to this project only and should not form the basis of any assumptions regarding future projects. Project variables determine individual installation times, with estimates provided before project commencement. Furthermore, the stated time relates to onsite installation and does not include product manufacture time, site measurement or any other processes carried out prior to actual installation.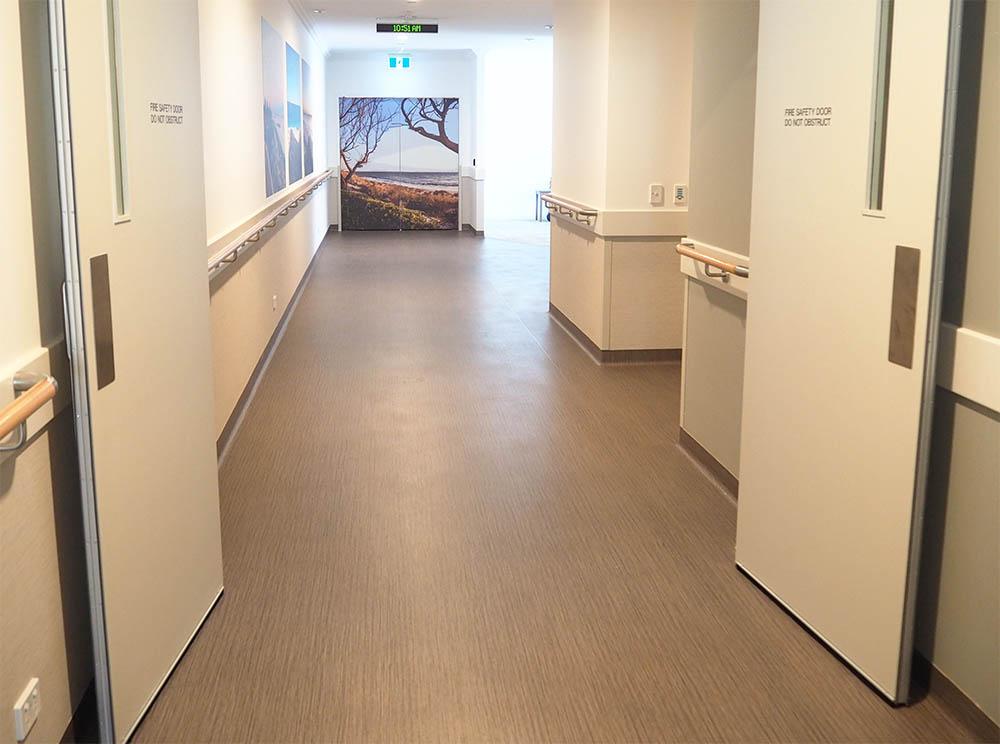 Call For a Quote:
08 9314 4000