LOAD RESTRAINT: What you need to know
Understand the basic legal requirements surrounding transport load restraint in Australia.  Learn the chain of responsibility and the fundamental mechanisms involved in restraining cargo.
FIRST, LET'S TEST YOUR ASSUMPTIONS ABOUT LOAD RESTRAINT
WHO IS RESPONSIBLE FOR LOAD RESTRAINT SAFETY?
ANSWER
Not just the driver. Obligations are on ALL parties in the road transport supply chain including the:
consignor
loader
receiver
AT WHAT SPEED ARE LOADS MORE LIKELY TO FALL OFF?
ANSWER
The chances of losing a load are more likely at a low speed rather than a high speed because it's easier for the brakes to 'grab' at a low speed.
WHICH LOAD WEIGHT IS MOST LIKELY TO FALL OFF?
ANSWER
Neither light nor heavy is more likely. A heavy load is just as likely to fall off as a light load because the same g-forces are involved, regardless of the weight.
LOAD RESTRAINT ACCIDENTS OCCUR MOSTLY....
Where, when & at what speed?
ANSWER
Most load restraint accidents happen
in city areas
after only a short distance
at low speed
WHAT'S THE MOST EFFECTIVE LASHING METHOD?
ANSWER
Webbing straps, as their tension is 5-10 times greater than that of rope, which might feel tight but in reality, the tension is very low.
IS A CURTAIN-SIDE SUFFICIENT TO RESTRAIN A LOAD?
ANSWER
No! Unless it is part of the certified load restraint system.
Did you know…. the most cost effective method of restraining a load is by using a tough rubber mat?
The surface friction provided by a rubber mat can HALVE the number of lashings required.

LOAD RESTRAINT INFORMATION
Jump straight to a section of your choice or scroll through the whole page.
DUE DILIGENCE
Think about what you expect when you are travelling.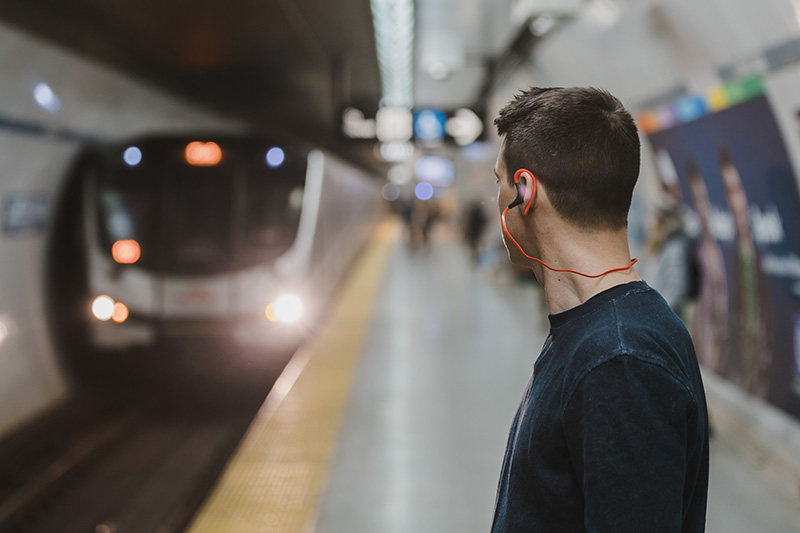 SCENARIO 1 – Due diligence expected
The high-speed train is approaching and you're about to get on. You keep listening to your music and thinking about your day, unconcerned about safety, regardless of the fact that you're about to reach speeds in excess of 100km/hr. Why…? Because your subconscious is satisfied that all due diligence has been done and your safety is in good hands.
Logic tells you that the train driver isn't responsible for every single aspect of your safety while you travel on the rail system. You expect that due diligence has been carried out at all stages – the track has been expertly designed and rigorously maintained; the train has been precision engineered and built; the signalling system is fully operational and the carriage doors operate like clockwork to maintain your safety while contained within the carriage.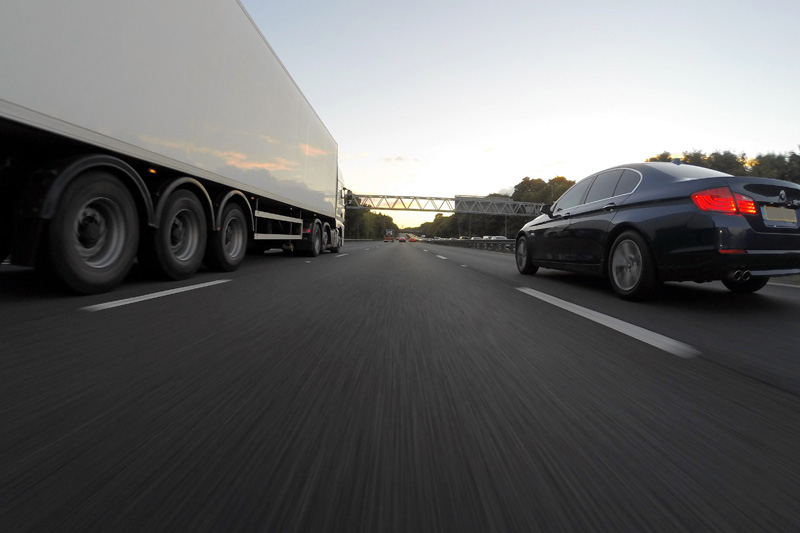 SCENARIO 2 – Due diligence expected 
You're driving on the freeway alongside heavily laden vehicles at speeds in excess of 100km/hr. You keep listening to your music and thinking about your day because your subconscious is reassured by the assumption that highly experienced drivers are in charge of well serviced vehicles as you overtake them at high speed.
However, responsibility for restraining the goods within the vehicles is often left to the drivers, who might lack sufficient training or knowledge to be able to optimise their safety while in transit (or your safety while you travel close by). Unfortunately, inadequately restrained loads pose a massive risk to the safety of all road users; but it's a risk that's often disregarded because the goods are often out of sight. Shouldn't due diligence be as important in this scenario as it is in the first scenario?
CARGO CAN TURN INTO DANGEROUS PROJECTILES
With the potential to cause:
OBSTRUCTIONS & CONGESTION
VEHICLE DAMAGE
SERIOUS INJURY
FATALITIES
Is it fair to place the responsibility solely on the driver when there is so much at stake? 
A carefully planned approach ensures that due diligence happens at all relevant stages; otherwise identified as the 'chain of responsibility'.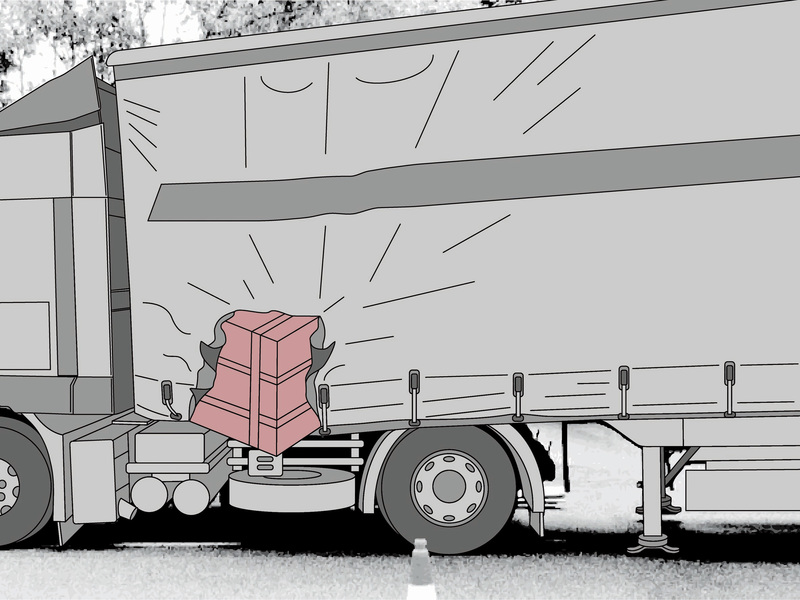 Fines for Serious Breaches 
in
Australia 
can be Significant!

"LOAD SAFETY
IS
ROAD SAFETY"
National Transport Commission & Roads and Traffic Authority NSW – Load Restraint Guide
CHAIN OF RESPONSIBILITY
Legislation places obligations on all parties involved in the transportation of goods!
"IF YOU USE ROADS IN THE TRANSPORT OF GOODS, YOU SHARE THE RESPONSIBILITY OF MANAGING THE RISK"
Mainroads Western Australia, CoR Fact Sheet
CONSIGNOR
Person or company consigning the carrying of goods.
PACKER
Person placing goods in packages, containers or pallets.
LOADER
Person placing or restraining the load of the vehicle.
DRIVER
Person in charge of transiting the goods.
OPERATOR
Entity operating a business that controls the use of a vehicle.
RECEIVER
Person taking possession of / unloading the goods.
'CHAIN OF RESPONSIBILITY' LEGISLATION WAS INTRODUCED TO:
REDUCE DAMAGE TO INFRASTRUCTURE
PROMOTE A LEVEL PLAYING FIELD
IMPROVE EFFICIENCY & COMPLIANCE
Legislation places obligations on all parties involved in the transportation of goods
BASIC LEGAL OBLIGATIONS & PERFORMANCE STANDARDS
What are the basic legal requirements?
The following general requirements are quoted directly from the 'NTC LOAD RESTRAINT GUIDE 2018'
The load does not come off your vehicle during normal driving conditions – including heavy braking and minor collisions. If it comes off, you have breached the law.
The load does not negatively affect the stability of the vehicle, which can cause the vehicle to roll or swerve uncontrollably, and cause an accident. 
The load does not stick out of the vehicle in a way that could injure people, damage property or obstruct others' paths.
"THE SECURITY OF YOUR LOAD, YOUR LIFE AND THE LIVES OF OTHERS RELY ON PROPER LOAD RESTRAINT".
Load Restraint Information, mainroads Western Australia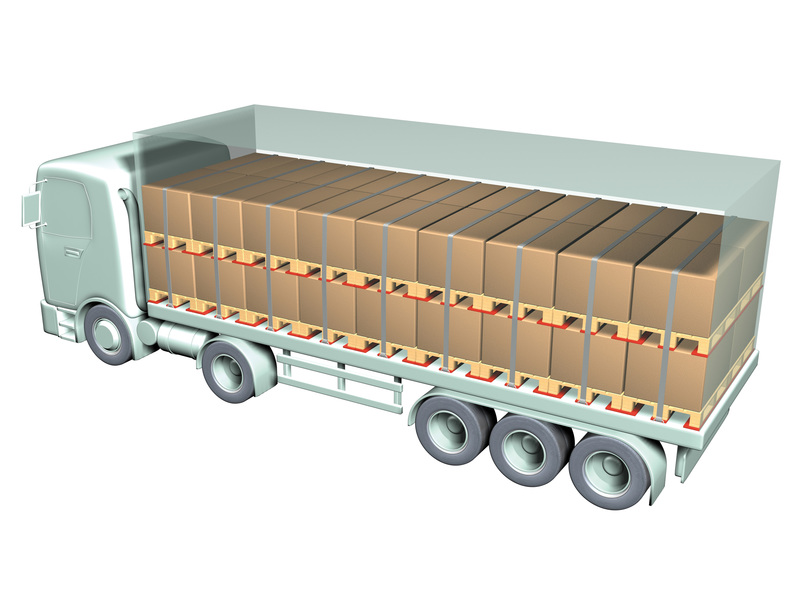 PERFORMANCE STANDARDS
The standards that MUST be met!
The following performance standards are quoted directly from the National Transport Commission Roads & Traffic Authority NSW – LOAD RESTRAINT GUIDE 2004 Second Edition 2004, p.186 (applicable to WA at time of writing this article)
The newest version (2018) is applicable to other Australian states (please check relevancy to your state).
Preventing unacceptable movement
"Loads must be restrained to prevent unacceptable movement during all expected
conditions of operation. The load restraint system must, therefore, satisfy the following
requirements":
(i) The load should not become dislodged from the vehicle.
(ii) Any load movement should be limited, such that in all cases where movement
occurs, the vehicle's stability and weight distribution cannot be adversely affected
and the load cannot become dislodged from the vehicle.
Loads that are permitted to move relative to the vehicle include loads that are
effectively contained within the sides or enclosure of the vehicle body such as:
(a) Loads which are restrained from moving horizontally (limited vertical
movement is permissible);
(b) Very lightweight objects or loose bulk loads (limited horizontal and vertical
movement is permissible);
(c) Bulk liquids (limited liquid movement is permissible);
To achieve this, the load restraint system must be capable of withstanding the forces
that would result if the laden vehicle were subjected to each of the following separately:
0.8 'g' deceleration in a forward direction,
0.5 'g' deceleration in a rearward direction,
0.5 'g' acceleration in a lateral direction,
and to 0.2 'g' acceleration relative to the load in a vertical direction.
Note: 'g' (the acceleration due to gravity), is equal to 9.81 metres/sec/sec for
the purpose of these standards.
FUNDAMENTAL MECHANISMS
The basic science behind load restraint!
DURING NORMAL DRIVING, LOADS CAN SHIFT:
FORWARDS
Caused by:
braking while driving forward
accelerating in reverse
downhill slopes
BACKWARDS
Caused by:
braking in reverse
accelerating forwards
uphill slopes
Load restraint systems must be able to restrain the load according to the following percentages:
OF ITS WEIGHT IN A FORWARDS DIRECTION
OF ITS WEIGHT IN A BACKWARDS DIRECTION
OF ITS WEIGHT IN A SIDEWAYS DIRECTION
OF ITS WEIGHT IN A VERTICAL DIRECTION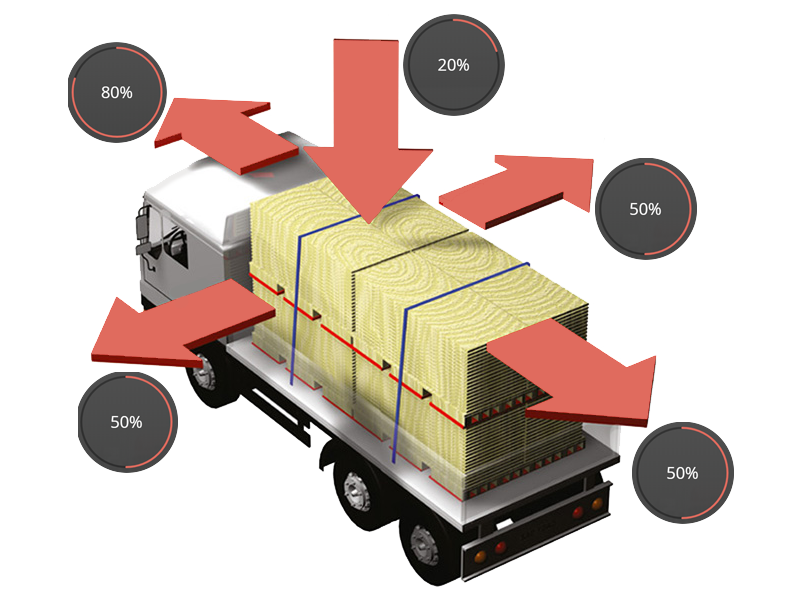 "JUST BECAUSE A LOAD HAS BEEN CARRIED IN A PARTICULAR WAY A NUMBER OF TIMES, IT DOES NOT MEAN IT IS PROPERLY RESTRAINED".
Load Restraint Information, mainroads Western Australia
EXAMPLE USING 10 TONNE LOAD:

When carrying a 10 tonne load, it would be necessary to restrain 8 tonnes in a forwards direction, 5 tonnes in a backwards or sideways direction and 2 tonnes in a vertical direction.  
 
These requirements apply to "EXPECTED DRIVING CONDITIONS" which include:
 
EMERGENCY BRAKING

MINOR COLLISIONS
These are just the basic concepts!  There are many variables to consider, such as the behaviour of restraints e.g., stretch & tension; or the packaging used e.g., surface friction.
Static and dynamic test can remove guesswork and validate assumptions. Developing an engineered load restraint system is a good solution when particular load 'types' are transported regularly.
WORKED EXAMPLES
For worked examples refer to P.204 of The Load Restraint Guide 2008, National Transport Commission
Legislation places obligations on all parties involved in the transportation of goods
KEY PRINCIPLES OF EFFECTIVE LOAD RESTRAINT
A checklist of the basic considerations to help achieve compliance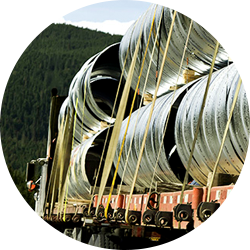 QUESTION THE LOAD'S CHARACTERISTICS SUCH AS:
Friction levels – are you carrying low friction items such as glass or metal that need to be paired with high friction surfaces during transit? Quality rubber matting offers an excellent, high-friction surface.
Weight, size & centre of gravity – what effect will the load have on vehicle stability? Will the load cause the vehicle to roll? Can it be contained within the vehicle safely?  
Packaging – are the goods packaged in a way that allows effective restraint to be applied?  The wrong packaging can make it difficult, or even impossible to apply adequate restraint.
2.   SELECT A SUITABLE VEHICLE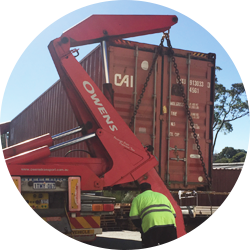 SELECT A VEHICLE WITH:
Adequate load capacity – make sure the vehicle can handle the weight and volume of goods being carried. Avoid excessive overhang of goods. 
Roll stability – does the vehicle have enough stability to handle the load?  Vehicle roll-over is more likely with loads that have a high centre of mass.
Correct height – don't forget to consider environmental obstacles on the route.  
3.   MATCH THE RESTRAINT SYSTEM
LOADS CAN BE RESTRAINED USING A 'TIE-DOWN' OR 'DIRECT RESTRAINT' METHOD, OR COMBINATION OF METHODS IF NECESSARY
Tie-down method – lashings clamp the load onto the vehicle creating a level of friction force that prevents forwards, sideways and backwards movement. The weight of the load contributes to the friction force, however, weight alone is not enough to meet performance standards, hence the requirement for lashings.
It's important to use enough quality lashings to account for the following variables:
Weight of the load
Blocked or unblocked load
Level of friction between surfaces
Direct restraint method – when a load is difficult to 'tie-down' it can be restrained directly by 'blocking', 'containing', or 'attaching'.
Loads can be blocked using suitable headboards, side gates and tail gates.  

 

Loads can be contained by other parts of the load or by structural components of the vehicle that prevent horizontal movement.
Loads can be attached directly onto the vehicle by means of webbing straps, twist locks or chains. This method is ideal for low friction loads or wheeled loads.
4.   POSITION THE LOAD CORRECTLY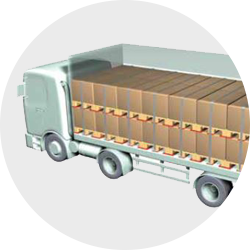 'LOAD POSITION' SIGNIFICANTLY AFFECTS VEHICLE STABILITY, STEERING AND BRAKING.  
Keep the centre of gravity as low as possible
Spread the load evenly across the deck and aim for even distribution of weight across the axles
Load heavy items first
Check stability to remove the risk of rollover
Avoid excessive overhand of the goods
5.   ENSURE RESTRAINT EQUIPMENT IS UP TO THE JOB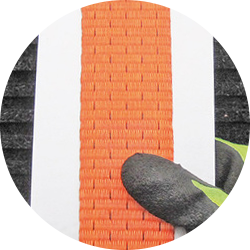 CHECK THE FOLLOWING:  
Condition of restraints – are the lashings in good order and well maintained, even minor damage can reduce effectiveness.

Does the lashing equipment meet performance standards? 

Quantity of restraints – are there enough in place?
REMEMBER! "CHECK YOUR LOAD RESTRAINT IMMEDIATELY BEFORE LEAVING AND DURING YOUR TRIP"
mainroads Western Australia – Load Restraint Information
….to ensure your load behaves the way you want it to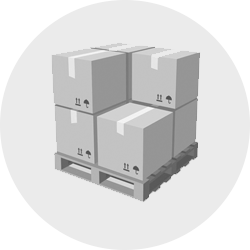 PACKAGING
If the packaging isn't right then correct restraint of the load isn't even feasible. It must be able to meet load restraint performance standards.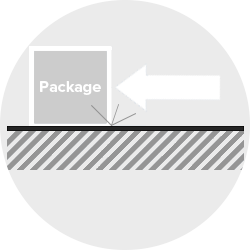 FRICTION
Friction is one of the most important fundamentals of effective load restraint! Rubber is a high friction surface that can be paired with low friction surfaces such as glass or steel.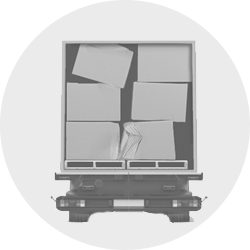 NO GAPS
Gaps allow the load to shift which is an obvious problem; but they also cause restraints to loosen, rendering them far less effective. Also, objects that assume a new position during transit can pose a danger during the unloading process.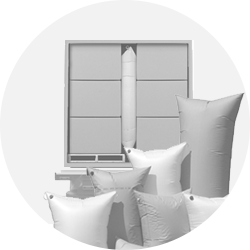 DUNNAGE
Dunnage is the packaging which is placed under or between parts of the load.  The dunnage itself must be secure and positioned correctly.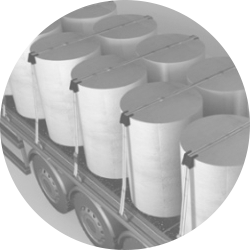 RESTRAINTS
The number and type of restraints used are important factors in effective load restraint. The tension from webbing straps is far greater than the tension generated by ropes for example.
The fundamental of friction "is the most important of those fundamentals… more important than the number of restraints"
Graham Agnew, Logistics Engineer at BlueScope Steel, 2015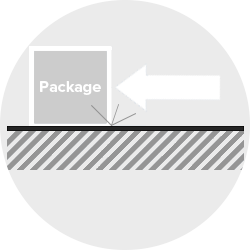 Find information about Regupol cargo mats mats which can more than halve the number of lashings required.  You will also find information about webbing protectors. Remember, it's vital to keep load restraint equipment in excellent condition. GO TO PRODUCT INFORMATION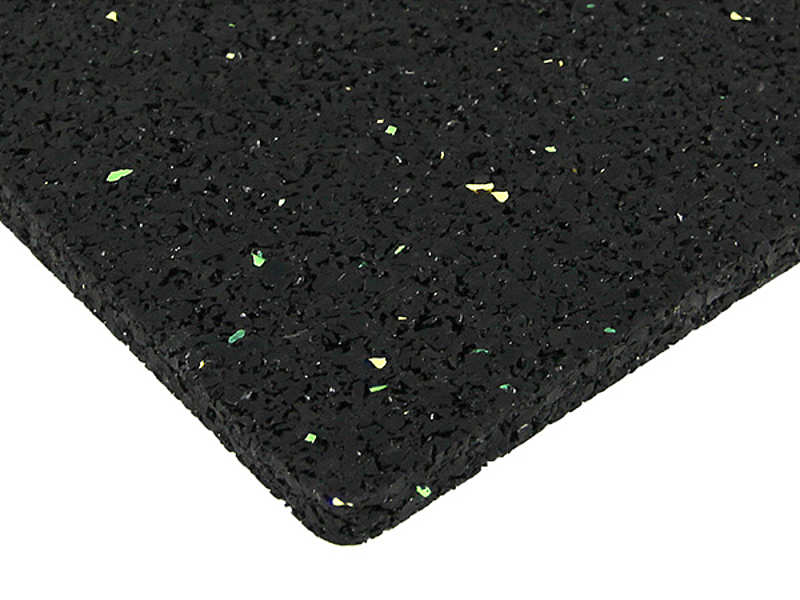 Request a Free Sample of Rubber Load Restraint Matting
Contact us to receive a free sample swatch of load restraint matting, containing REGUPOL Cargo Mat 7210®, REGUPOL Cargo Mat 9510® and REGUPOL Cargo Mat 1000®
* Please note that the information on this page is intended as general guidance only.  Applying an appropriate restraint system and meeting legal compliance are the responsibility of the individual, which may require further investigation and testing.  Furthermore, legal requirements associated with load restraint are subject to change and may differ from details reported  at the time of creating this web page.   As such, it is the individual's responsibility to conduct an independent review the latest legal requirements.