Custom Stained, Curving Handrails at SwanCare Ningana Aged Care Home
One of the best ways to match handrails to surrounding interior elements is to use timber rail with a custom stain colour.   Our CS Acrovyn Handrails at SwanCare Ningana demonstrate this approach perfectly.  The building's interior has been finished to a high standard with stunning timber feature walls and rich coloured doors set against crisp, white walls.  Our Victorian Ash Timber was stained according to required specifications, and the results are impressive. Read on to see the results.    

Project Scope
Fabricate 750 mtrs of bespoke CS ACROVYN HANDRAIL for new SwanCare Ningana Aged Care Home in Bentley. Complete final installation.  

Product details
HANDRAIL:  HRWS-6C    
FINISH: Victorian Ash Timber with Custom Stain and Custom Brackets

Installation
ABS West's Handrail Craftsmen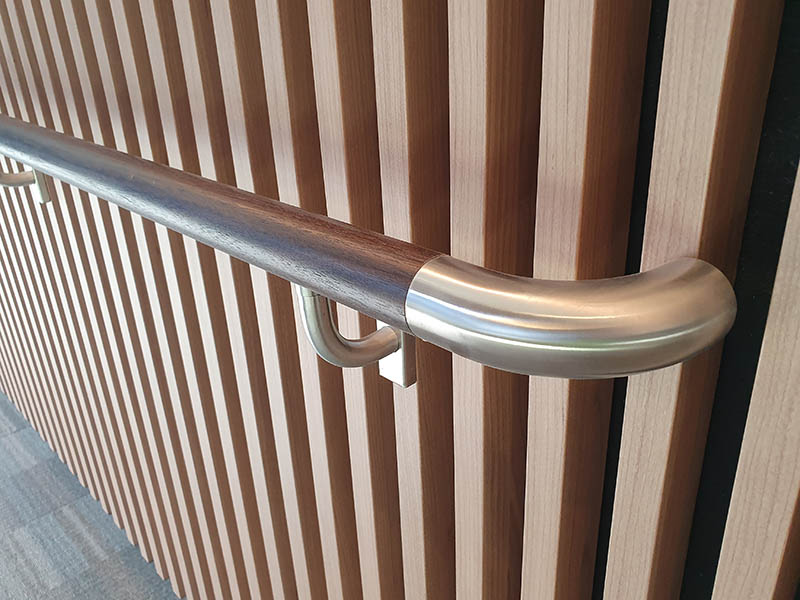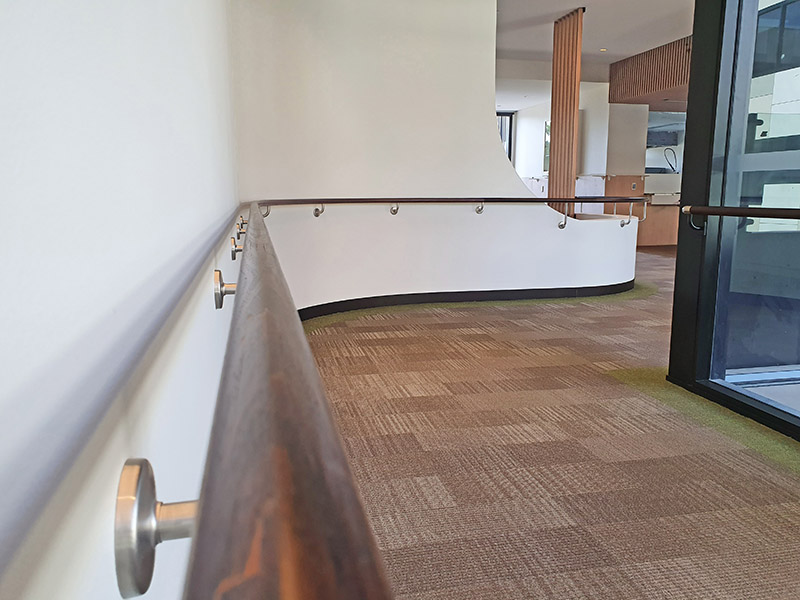 CUSTOM STAIN COLOUR
A dark, rich stain was chosen for the project, making the handrails contrast beautifully with the crisp white walls, while complementing other timber elements within the building. The natural grain of the Victorian Ash timber still shines through.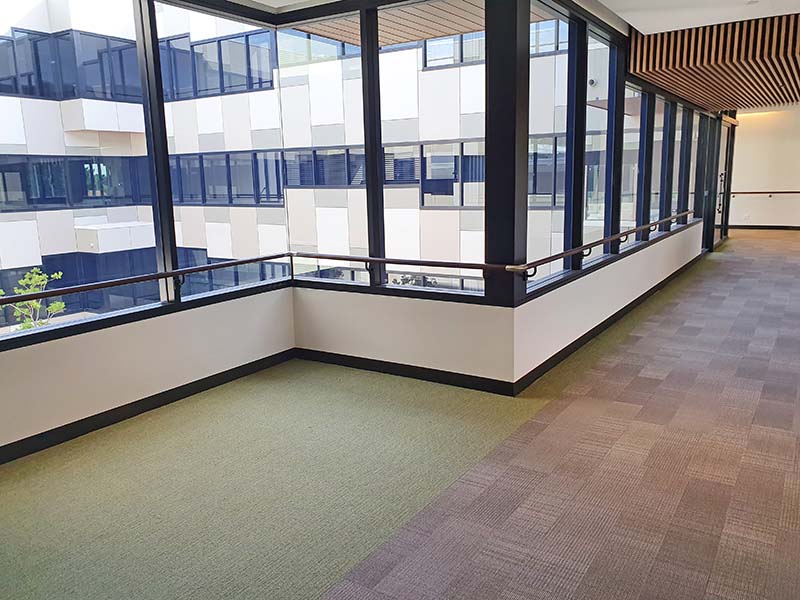 COMPLETE WINDOW COVERAGE
Each level of the building centres around an enclosed courtyard, meaning there are expansive window areas where handrail support is still required. Custom brackets were used to attach the handrail to the window frames.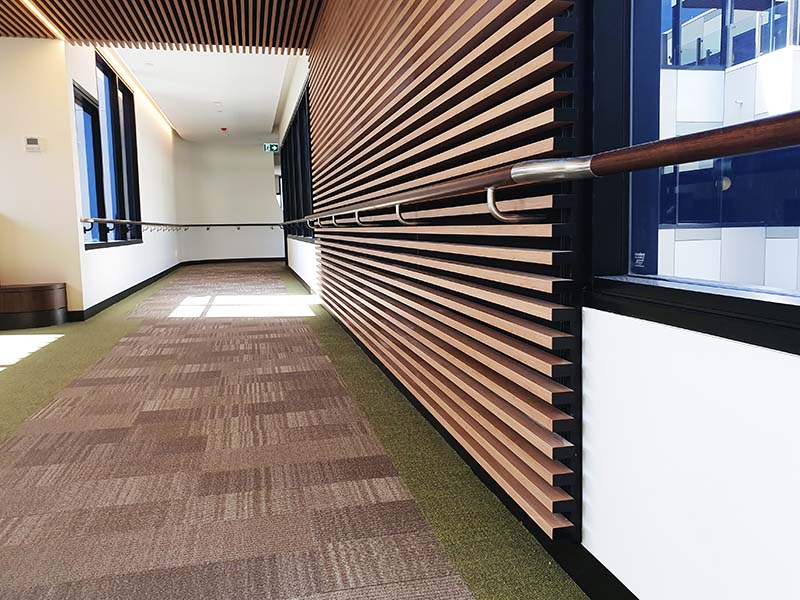 INTEGRATION WITH TIMBER FEATURE WALL
SwanCare Ningana has stunning timber feature walls at various points throughout the building.  Again, tailored handrail brackets and custom stain colours were used to achieve visual and practical integration with the striking feature walls.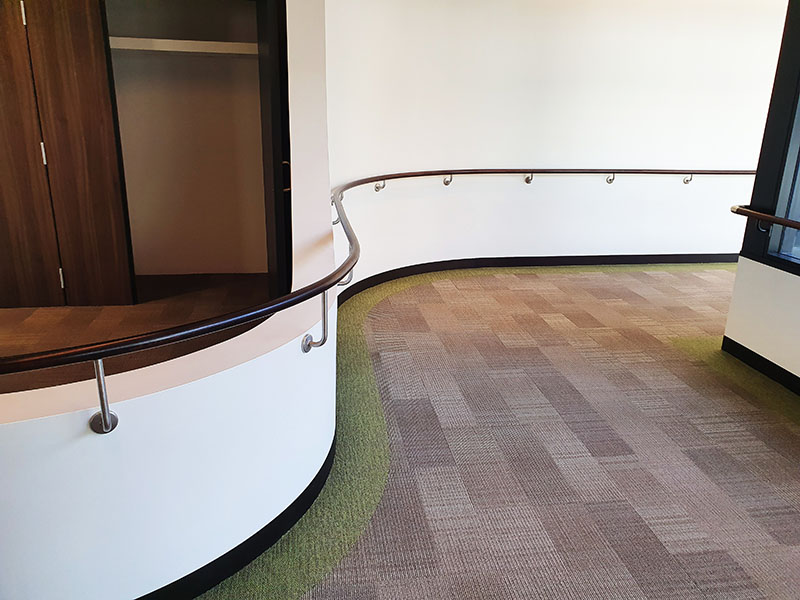 IMPRESSIVE CURVES
See the gallery below for more examples of this project's curving handrails, or link to some of our other handrail projects to see how we've handled curves with great success in the past.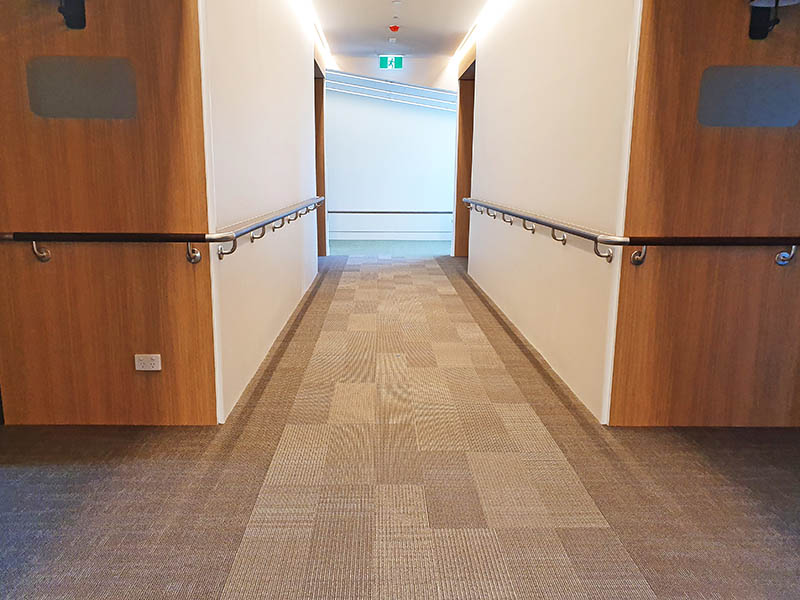 ACCOMMODATION AREAS
Handrails lead from communal areas right through to residential areas, to ensure residents have strong support all the way to their personal accommodation.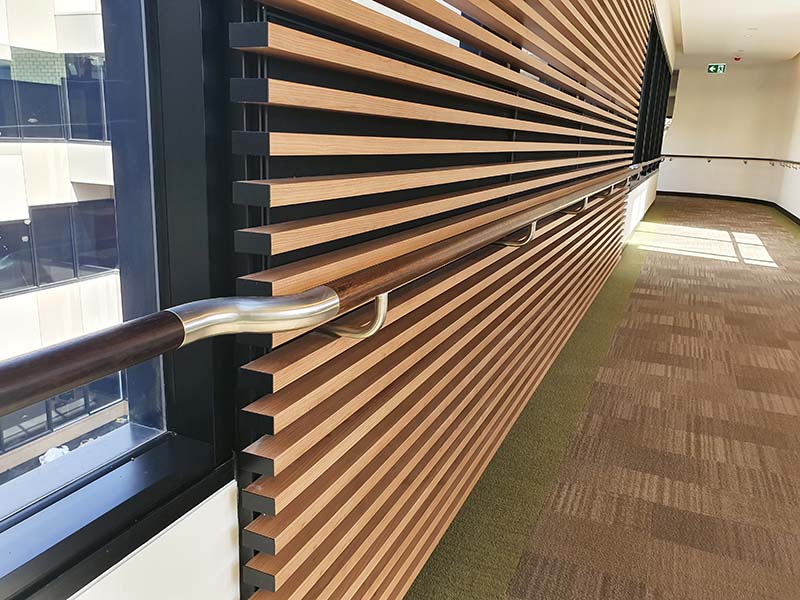 STAINLESS STEEL & TIMBER COMBINED
The classic combination of stainless-steel and timber is a great way to provide warmth with a contemporary edge.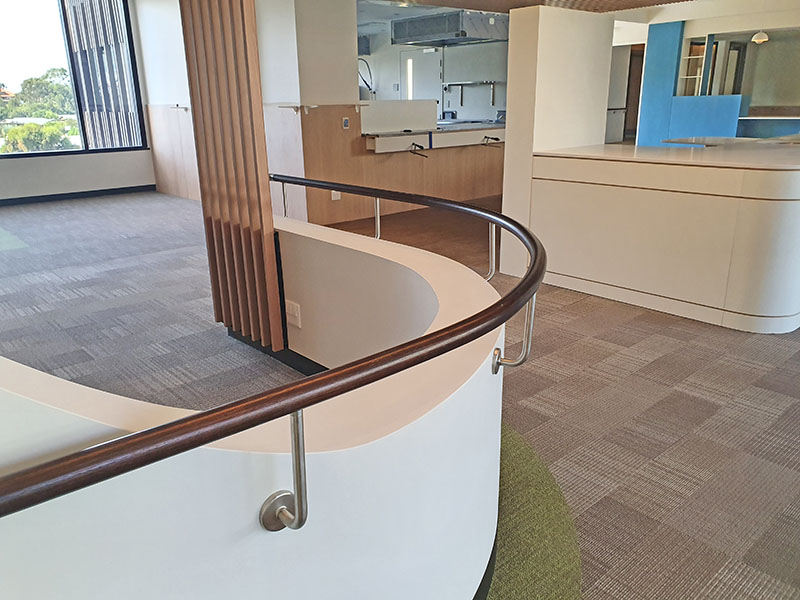 CUSTOM BRACKETS
Half walls like the one pictured here, still require handrail support. Custom brackets were used to mount the handrail onto this half wall, while maintaining the correct handrail height.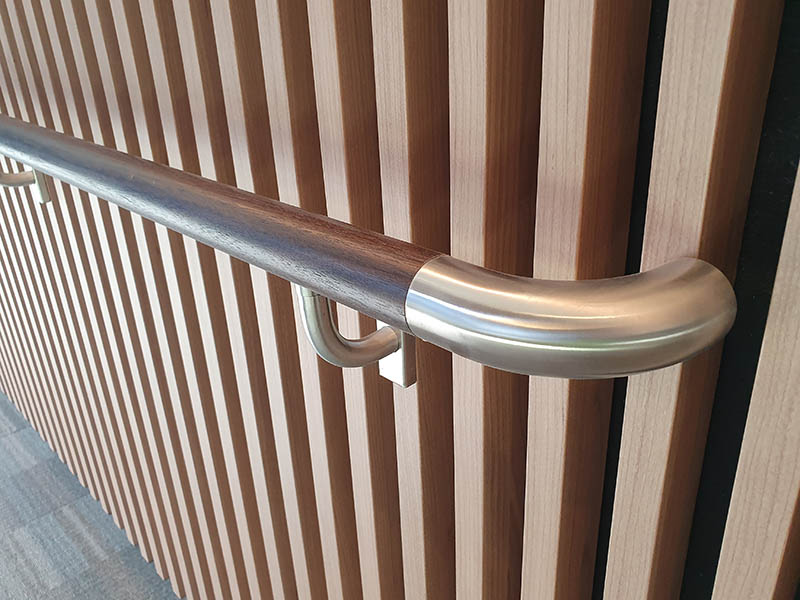 QUALITY CRAFTSMANSHIP & INSTALLATION
Our handrails are custom-made and installed by our in-house craftsmen who have a wealth of fabrication experience and years of involvement in projects of all shapes and sizes.  Their skill and experience shine through in the results they achieve.  
MTRS USED IN WHOLE PROJECT (APPROX)
MONTHS ONSITE (Intermittent intervals)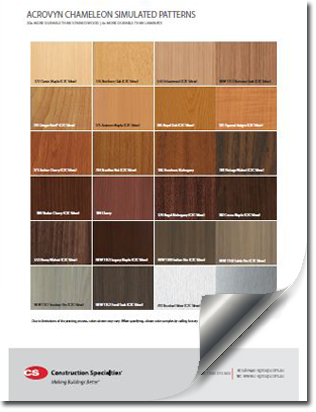 Our Handrails can also be fabricated using Acrovyn® sheet which is commonly used for crash rails, wall panels, rubstrips and kickplates. Acrovyn® sheet is available in a variety of solid colours or simulated patterns, from wood grain effect to metal effect. Download the PDF to see the patterns available.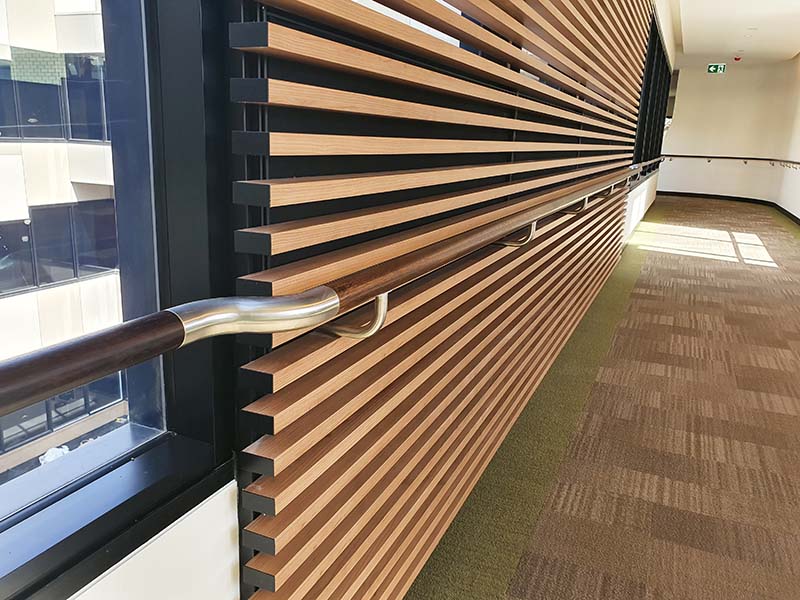 Not all Handrails are Created Equal!
See the difference between
GOOD & BAD CRAFTSMANSHIP.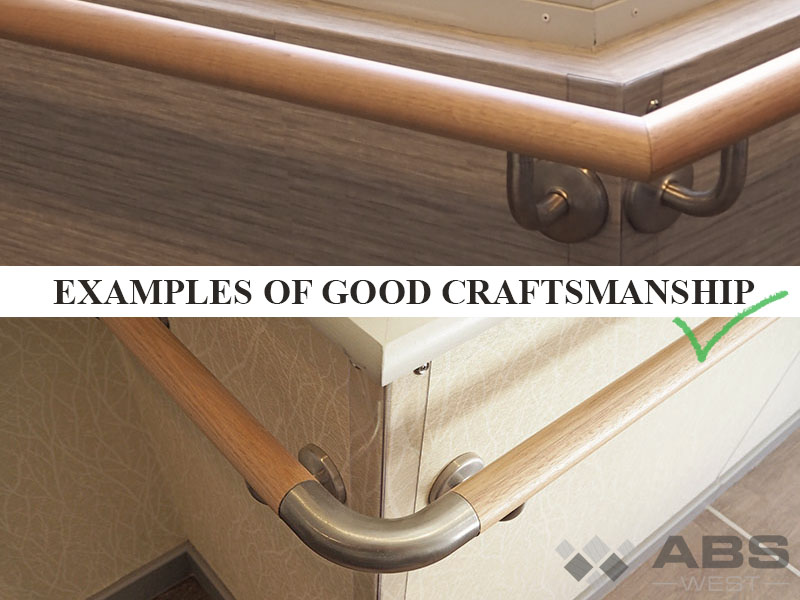 Photos from Meath Care in Como – CS Handrails installed by ABS West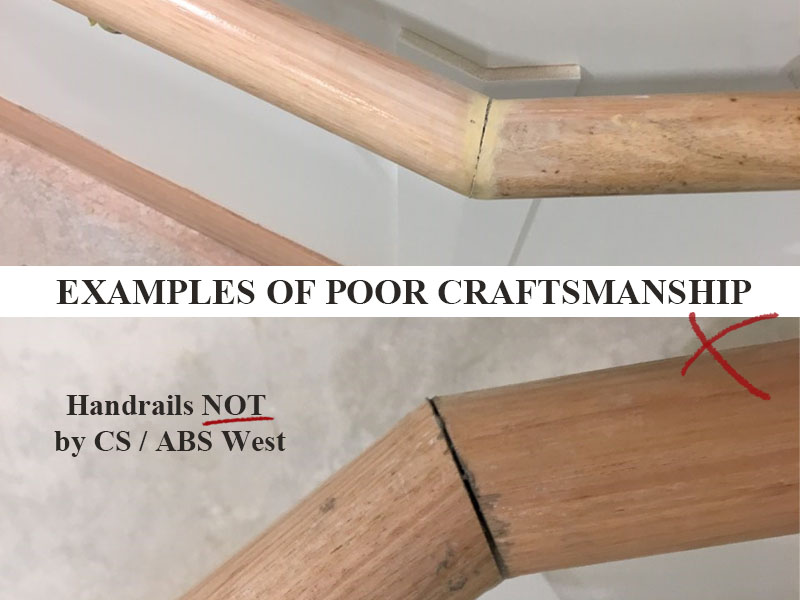 Photos from similar facility in Perth – Product: unknown / Installer: unknown
Discover more about CS Acrovyn Handrails 
We supply a variety of handrail styles for a whole range of project types. Find out more by visiting our handrail product page.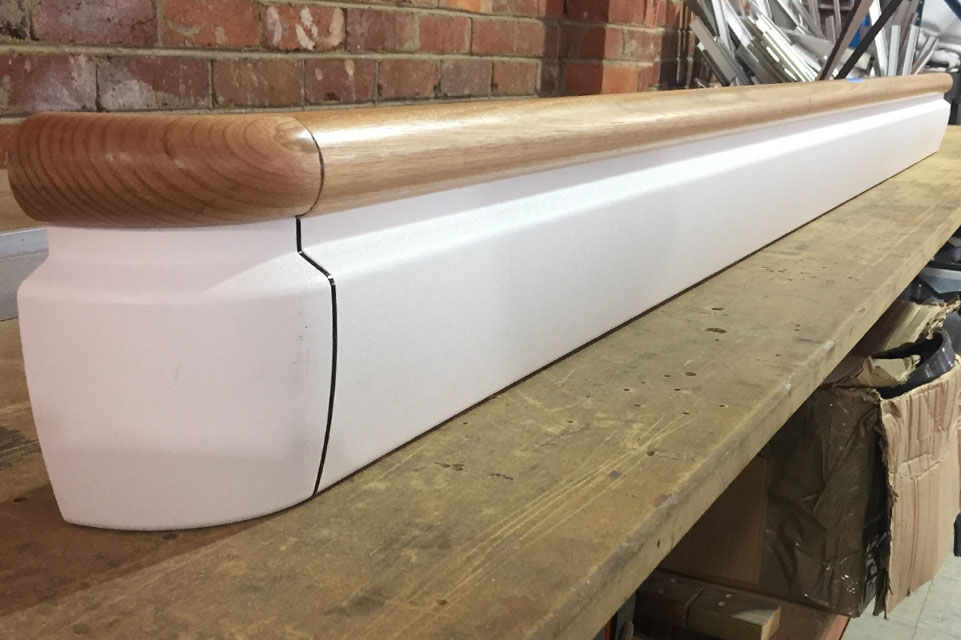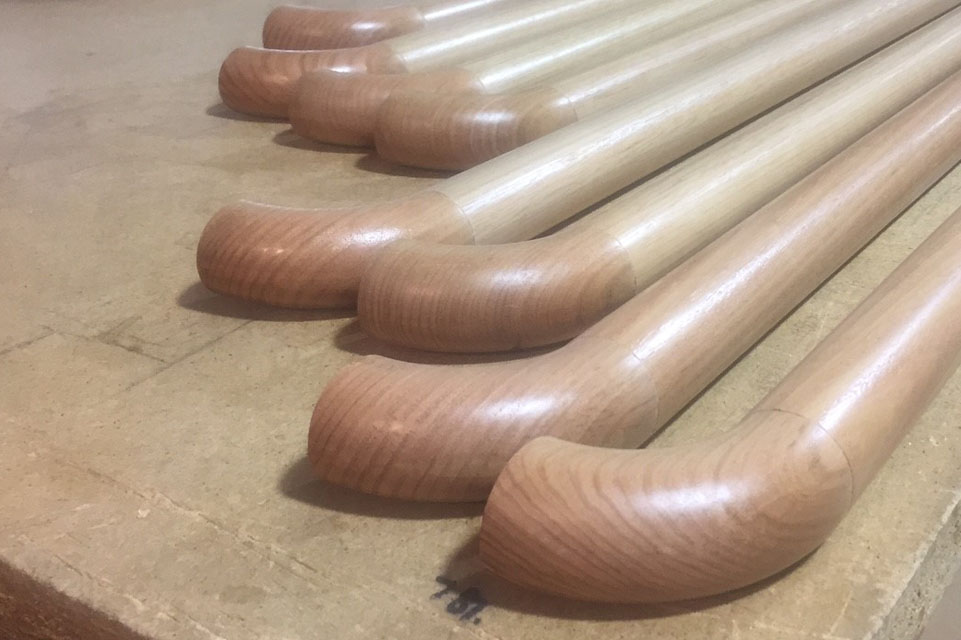 Call For a Handrail Quote:
08 9314 4000