Almost One Kilometre of Handrail Installed in Meath Care ACF, Como
One kilometre is a lot of handrail!  Aged care facilities need strong and reliable pedestrian support in almost all areas, so you can imagine the variation in angles and lengths associated with a project of this size. There are short walls, long walls, recesses, corners, floor to ceiling windows, wet areas, dining areas – and all of them need to be capable of providing residents with strong support. High quality materials combined with excellent workmanship is the only way to achieve reliable results for a project of this type. Take a browse through some of the areas of handrail installation in this two-storey, residential aged care home.

Project Scope
Fabricate just under 1 km of bespoke CS HANDRAIL for eight residential wings in new aged care facility. Complete final installation.  

Product details
HANDRAIL:  HRWS-6C    
FINISH: Natural Solid Timber Rail & Stainless Steel Fixtures

Installation
Stuart and Troy on behalf of ABS West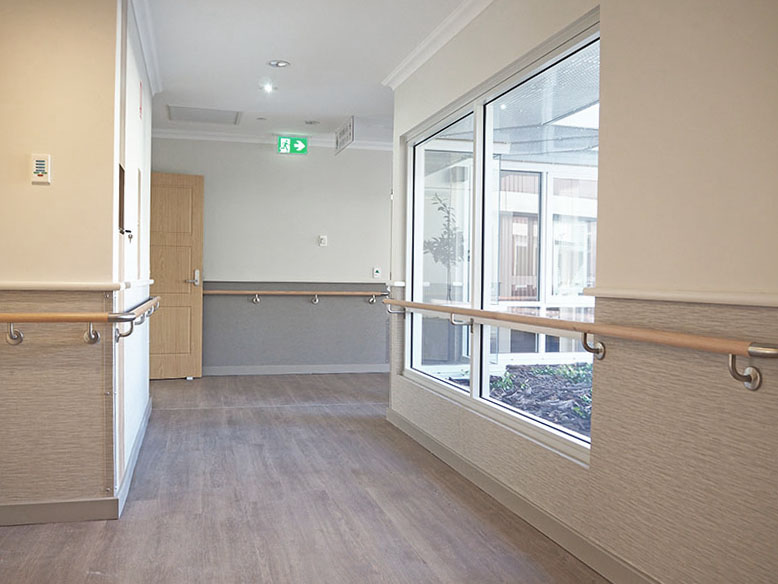 CS Handrails have been used in hundreds of healthcare & aged care projects across Australia & worldwide because they are…
STRONG, RELIABLE & AVAILABLE IN OPTIONS TO
SUIT MOST INTERIOR STYLES!
A Small Selection of Installation Areas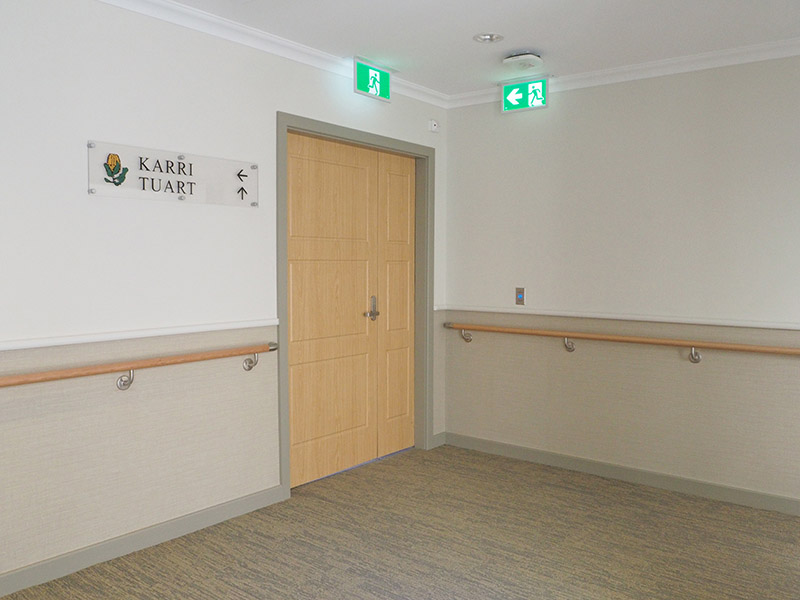 AT ENTRIES TO INDIVIDUAL WINGS
'Meath Care' has eight individual resident wings, four on each floor.  Handrails provide support to residents and their visitors in this central zone.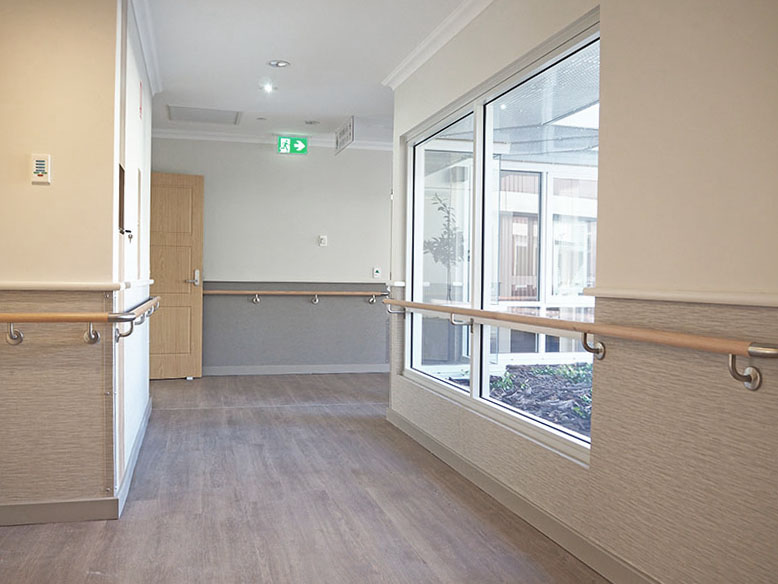 THROUGHOUT COMMUNAL PASSAGEWAYS
Within each resident wing, handrails provide support throughout communal passageways which lead to external court yards, utility rooms and individual resident rooms.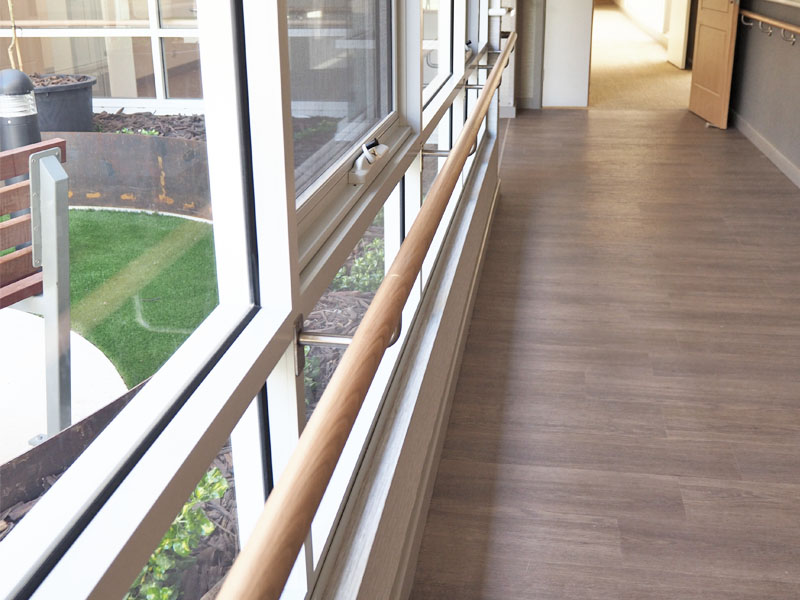 FLOOR TO CEILING WINDOWS
Part of the architect's scope was to create a building with plenty of natural light and fresh air. Large windows and central courtyards help to achieve that goal. Our handrails with blonde timber and stainless steel contribute to the light and airy feel.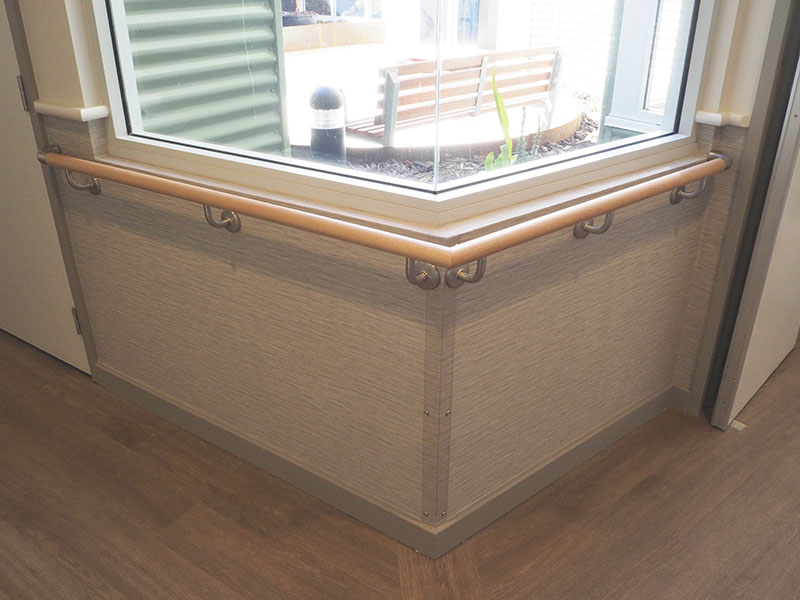 WALL CORNERS - SEAMLESS JOINS
No matter the angle of a corner, ABS West can fabricate handrails to exact specification. The craftsmanship of our handrail team ensures a seamless finish, as pictured here at the corner of an external courtyard.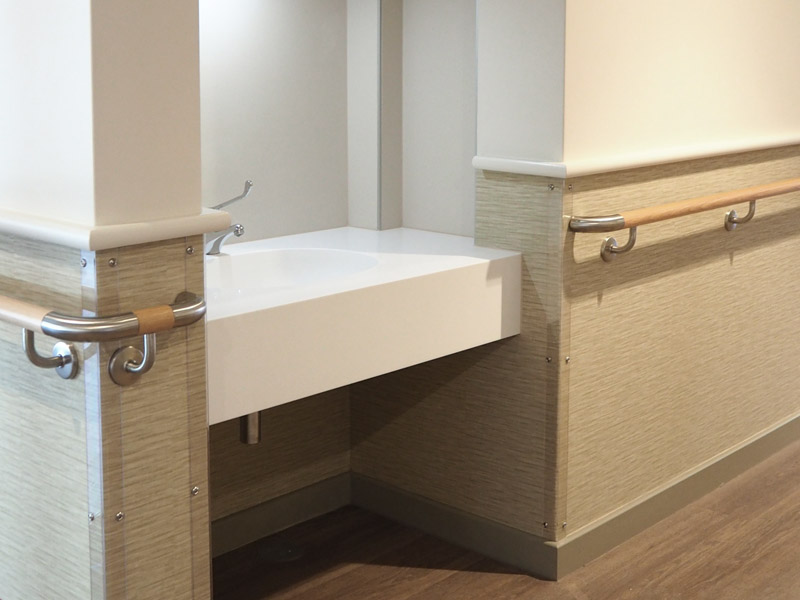 HAND WASHING STATIONS
Handrail support is also provided at hand washing stations, located at various points in the communal hallways.  Steady support is particularly important where residual water can increase the chance of slip incidents.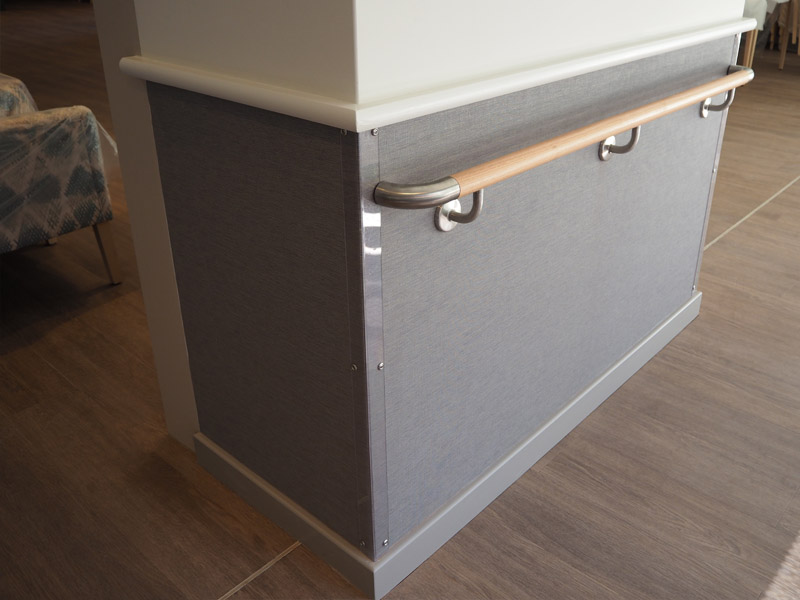 SHORT PARTITION WALLS
Even short partition walls need to offer support. Due to the fact that we fabricate lengths in-house, we can accommodate any length of wall.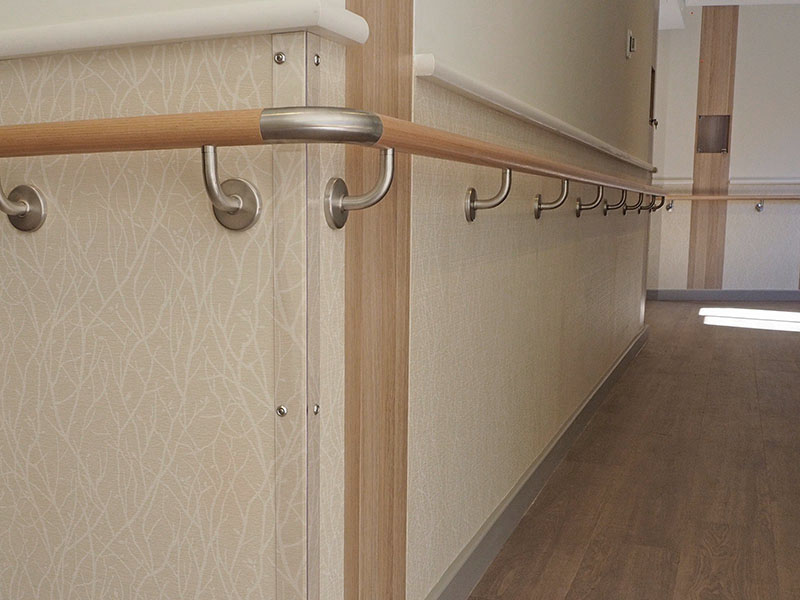 LONG, STRUCTURAL WALLS
Long corridors call for long lengths of timber, supported by stainless steel brackets at regular intervals. With 1 KM of handrails installed throughout this project, it's not difficult to imagine how many different lengths were created.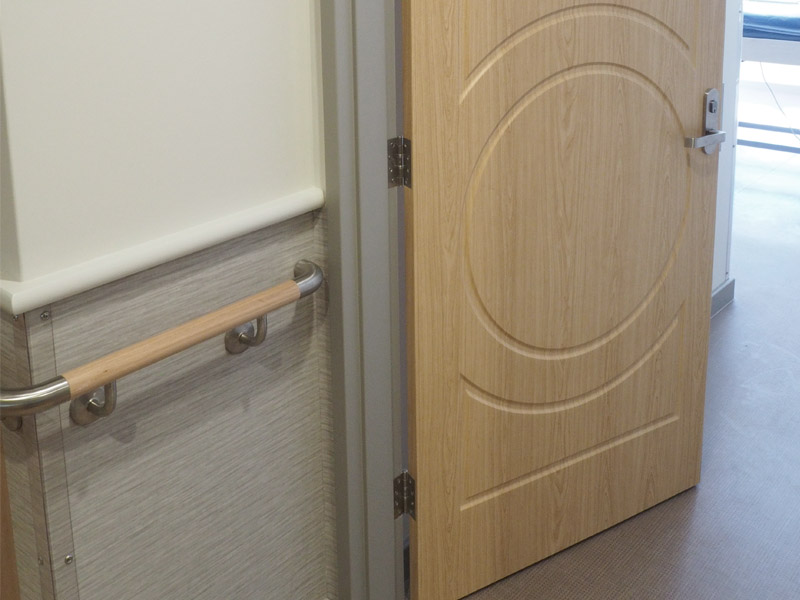 SUPPORT, ALL THE WAY HOME
Handrails lead directly to each individual residence to ensure support is provided all the way to the front door.
KILOMETRE USED IN WHOLE PROJECT (APPROX)
MONTHS ONSITE (Intermittent intervals)
PROJECT IMAGE GALLERY 
Meath Care Como
Not all Handrails are Created Equal!
See the difference between
GOOD & BAD CRAFTSMANSHIP.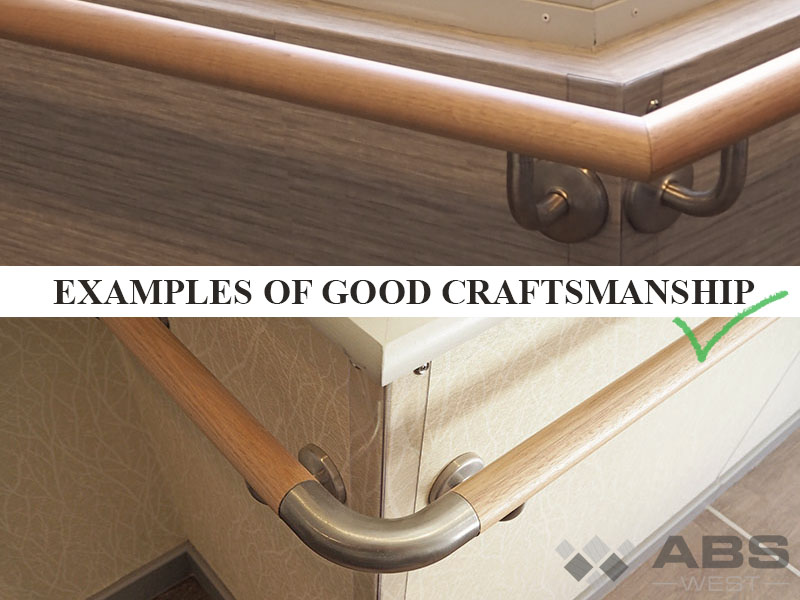 Photos from Meath Care in Como – CS Handrails installed by ABS West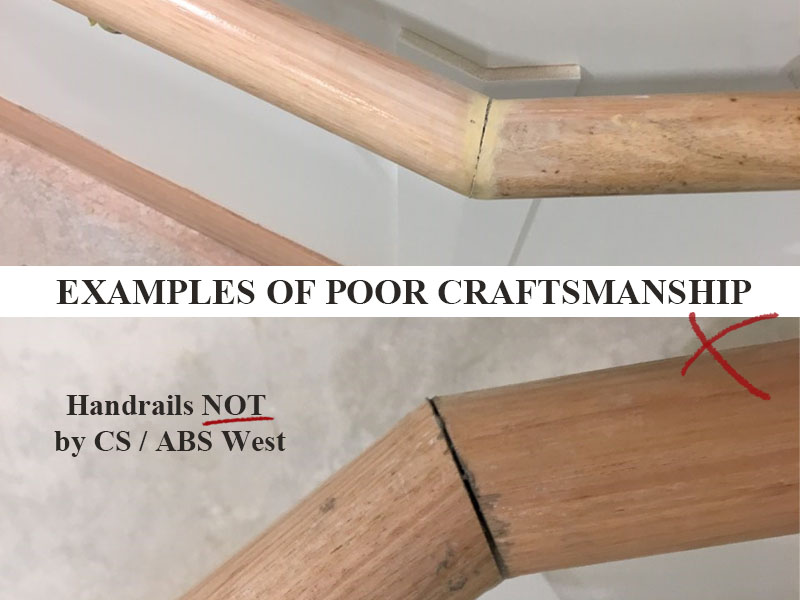 Photos from similar facility in Perth – Product: unknown / Installer: unknown
TO ENSURE PROFESSIONAL RESULTS, CHOOSE HANDRAIL EXPERTS!

Gary Batt & Associates Architects is a West Australian architecture firm with sixteen years of experience in aged care architecture, specialising in dementia specific accommodation, medical / care facilities and community facilities.  Aside from Meath Care Como, ABS West has also had the pleasure of working with Gary Batt & Associates Architects on Amaroo Village in Gosnells, another high quality aged care facility in WA.  The next project waiting in the wings is Acacia Living Meadow Springs. We are looking forward to working with this renowned architecture firm on this new project.
FOR MORE ABOUT GARY BATT & ASSOCIATES ARCHITECTS & THEIR PROJECTS VISIT: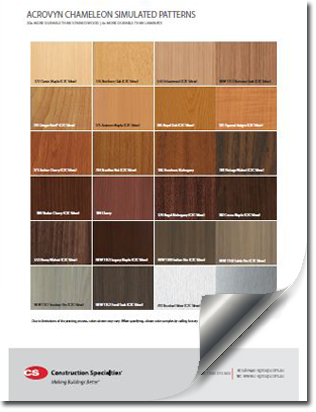 CS handrails can also be fabricated using Acrovyn® which is commonly used for crash rails, wall panels, rubstrips and kickplates. Acrovyn® is available in a variety of solid colours or simulated patterns, from wood grain effect to metal effect. Download the PDF to see the patterns available.
SIMILAR PROJECTS YOU MIGHT BE INTERESTED IN!
Discover more about CS handrails 
We supply a variety of handrail styles for a whole range of project types. Find out more by visiting our handrail product page.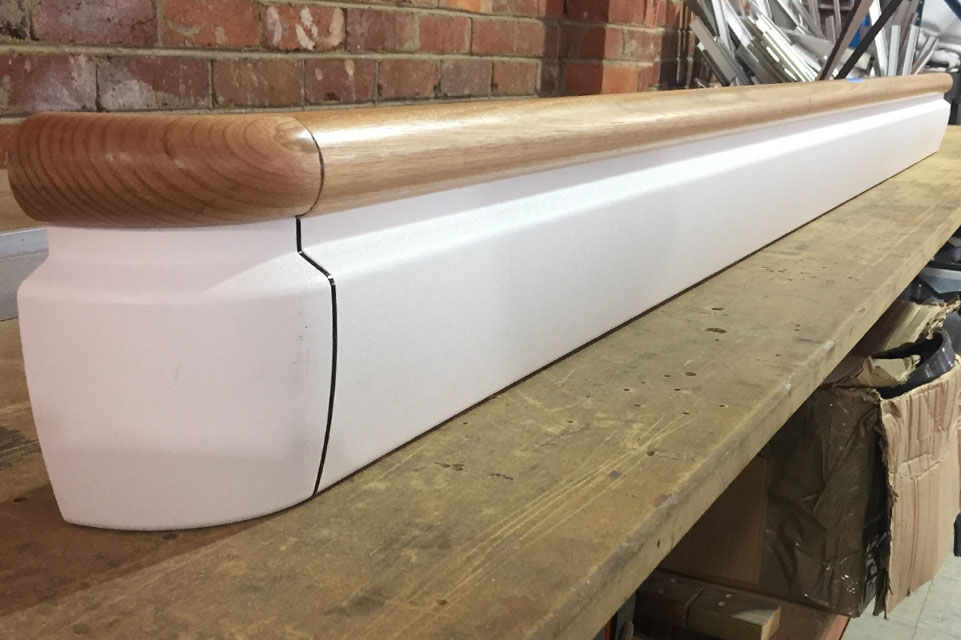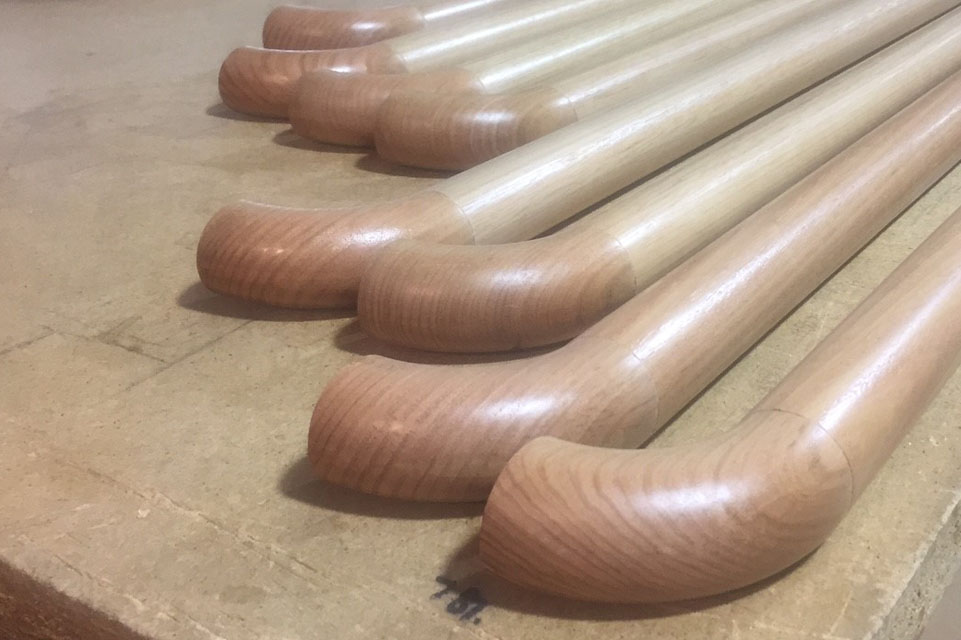 Call For a Handrail Quote:
08 9314 4000